So I recently purchased a Konami Violent Storm board from a member on the KLOV. It was supposed to be a working board, but so far, I still have not been able to get it to work. I really don't want to deal with the hassle of returning it and then having to locate and purchase another board, so I was hoping I could just fix whatever is wrong with it, and I figured it wouldn't likely be a serious issue since it was supposed to be a working board from the start.
I decided to write this in the form of a repair log, explaining what I have observed and done so far, in the hopes that this will eventually result in finding and fixing whatever is wrong with the board.
So the board arrived and I plugged it into my test unit and was given this screen:
As you can see, the board fails the power up test, reporting 2 chips as being "bad". It then resets and continues to do the same thing over and over.
The first thing I tried was the typical Konami initializing of holding down the test button on power up to "reset" the eeprom. Sadly, this did not fix the errors, rather it gives me this screen:
At this point, I decided to visually inspect the board. The first thing that caught my eye was on the solder side of the board. There were 2 large areas underneath the board that have the remains of old adhesive masking tape. At some point in the past someone recklessly did this:
I carefully removed the tape, which was not easy & took quite a long time to do so safely & properly, but I was successful and the end result was quite nice:
However, this had no effect on the problem and so I went back to look over the board. I found a few areas of minor corrosion and build up on some traces and solder points, but they all tested good for continuity and they mostly cleaned up ok. And beyond that, I found no bridged points, damaged or cut traces, etc.
Voltages are good, I tested the board in multiple cabinets and test rigs with no changes. I cleaned the edge connector, reseated all the socketed IC's, etc. (you can rest assured that I covered the easy and common stuff)
I then decided to focus on the 2 reported "bad" chips. Even knowing full well that the rom tests are often incorrect and can report chips as bad, when in fact they are not. I began with the bit eeprom chip. A tiny and simple 8 leg chip. I desoldered it from the board, installed a socket, and replaced it with the exact same chip that I sourced from a Konami Run and Gun parts board I have. And no change: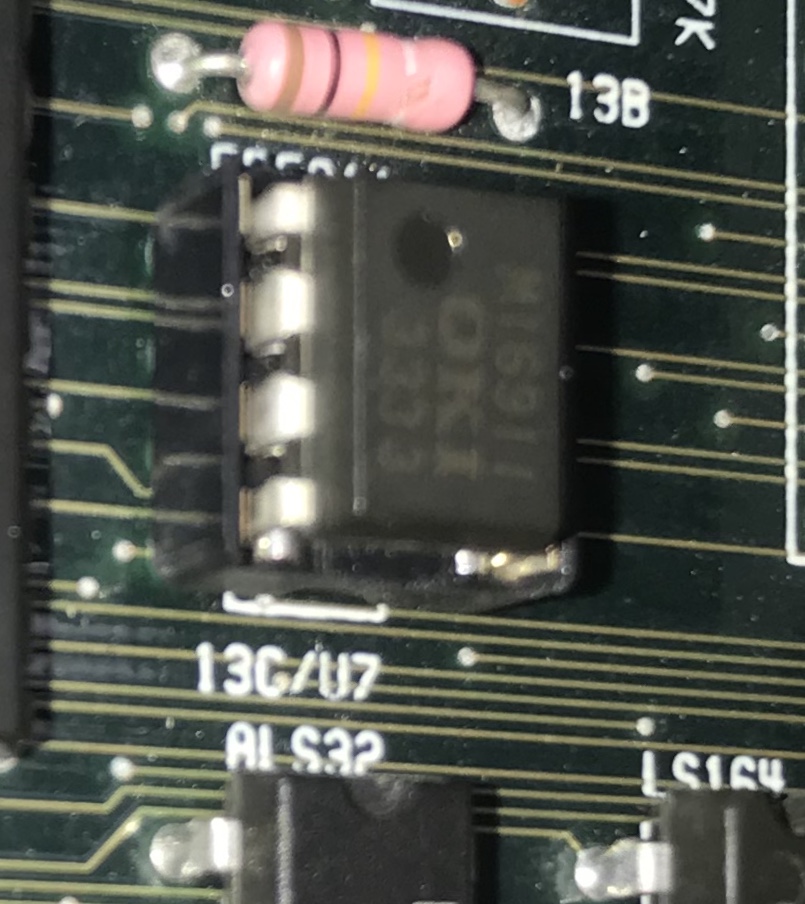 And so that's where I am now. My next step will be to do the same thing with the other chip now. Maybe piggybacking it before swapping it out though. However, before I waste my time doing anything else, I wanted to ask for advice from some of the other techs around here, hoping someone may have an idea for what else might be causing this problem and how I can fix it.
My knowledge, skills, and tools are just basic. I have several eprom programmers and hundreds of EPROMs. I can erase and program most EPROMs. I can solder and desolder any standard and most surface mount components. I have a multi-meter, logic probe, and other basic tools.
Thanks,
Billy
Edit: added pics of the sound module:
"Warranty? Yeah, sure, the warranty is 30 feet or 30 seconds, whichever comes first"
The post was edited 1 time, last by Supergun: Added pictures ().