The '315-5242' is a custom IC used on some Sega arcade systems :
System C/C2

System 18/24/32

System X

System Y

It's basically a video DAC connected to the color RAMs, which provides analog outputs for driving a monitor.It accomplishes also some special functions like making the video output grayscale instead of color or enabling shadow/highlight effect.It comes under the form of a ceramic module covered by black paint or epoxy :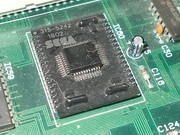 The 'core' of the '315-5242' is a surface mounted IC (PQFP44 package) located on top of the module, the 'M71064' from OKI manufacturer :
No info or reference was available for this fully digital IC until some time ago when 'furrtek' decapped it and traced schematics from the silicon die revealing the internal structure and figuring out the functions :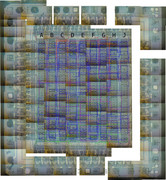 Most of the work was done so the step to a real replacement was the easy and logical consequence.And here we are!I designed a proper board based on a +5V CPLD :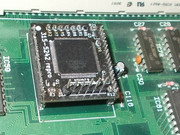 Testing on all boards I could try was successful.
Columns II (System C2)
Michael Jackson's MoonWalker (System 18)
Spider-Man (System32)
Thanks again to 'furrtek', without his brilliant work none of this would have been possible.
The post was edited 1 time, last by caius ().