What is the Taito F3 Roll-Up Pack?
The Roll-Up Pack List is a documentation of roms that can be placed on an SD card for a complete F3 kit setup that's ready to use. It includes every playable F3 kit compatible game. This should save people from having to scour the forums to find everything. I'll update my lists whenever new content is available.

How to Use
Format a microSD card as FAT32 using Windows, not Mac or Linux.
Extract the pack to it using 7-Zip, maintaining the folder structure. If your card is the I: drive for example, the layout must be exactly I:\games\rom folders\

Troubleshooting
The most common kit problem is SD card incompatibility. Test multiple cards before reporting problems, especially if they are larger than 4GB. Format only as described above. Format the SD card every time you update your pack, before copying new files to it. This prevents corruption and alphabetizes the game list. Format and re-copy everything, every time. "No SD Card Detected" probably means you didn't create a \games folder. It can also mean that your microSD isn't compatible or needs to be formatted correctly.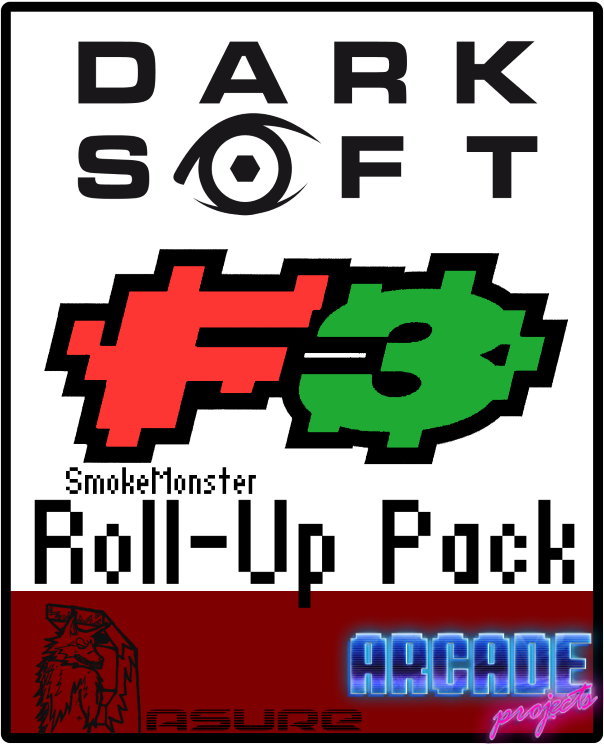 Taito F3 Roll-Up Pack
Download Link
(mirror)
Please note that I am not sharing these files. I only create SMDB text descriptions of ROM organizations through a Github Research Project.



F3 Roll-Up Pack


All ROMs released on the forum
All ROMs are menu patched
All of Asure's ROM fixes
Latest bug-fixed versions of all ROMs
NAME files in every folder
Fits on a 1GB Card



Pure MAME Pack


Built using rtw's F3-Multi ROMset generator
Perfect MAME ROMs
No menu patches: games may sometimes ask you to press the menu button because an EEPROM changed
Includes all ROMs in MAME, almost double the regular pack
Includes all ROM revisions
NAME files match their MAME entry
Fits on a 2GB Card



Changelog


2018-02-04: Added Pure MAME Pack - thanks rtw!
2017-11-01: Fixed Puzzle Bobble 2 - Thanks rtw!
2017-10-12: Updated NAMEs, noting required or optional accessories, and vertical orientation
2017-08-25: Added Dan-Ku-Ga (Kaiser Knuckle Prototype) - Thanks Asure!
2017-08-24: Added fixed Puzzle Bobble 2 (J) by Asure!
2017-08-16: Added Dungeon Magic created by Maldoror86 and Darksoft. Thanks!
2017-07-26: Standardized all NAME files, added a game list
2017-07-22: Initial Release



Staff Roll


A huge thank-you to everyone supporting the Taito F3:
Darksoft
Asure
Mitsurugi-w "Mitsu"
rtw
undamned
Arcade-Projects forum members!

F3 Roll-Up Pack Games List:

| | | | | |
| --- | --- | --- | --- | --- |
| Folder | Game | Revision | NAME | Notes |
| arabianm | Arabian Magic | 1.00 | ARABIAN MAGIC | |
| arkretrn | Arkanoid Returns | | ARKANOID RETURNS - Spinner Optional | Spinner: Optional |
| bubblem | Bubble Memories | | BUBBLE MEMORIES | |
| bubblemx | Bubble Memories Extra | 2.40 | BUBBLE MEMORIES EXTRA | |
| bublbob2 | Bubble Bobble 2 | 2.50 | BUBBLE BOBBLE 2 | Fixed by Asure |
| cleopatr | Cleopatra Fortune | | CLEOPATRA FORTUNE | |
| commandw | Command War | | COMMAND WAR | |
| cupfinal | Cup Finals | | CUP FINALS | |
| dankuga | Dan-Ku-Ga (Kaiser Knuckle Prototype) | v0.0J | DAN-KU-GA | Fixed by Asure |
| dariusg | Darius Gaiden | | DARIUS GAIDEN | |
| dariusgx | Darius Gaiden Extra | | DARIUS GAIDEN EXTRA | |
| dungeon magic | Dungeon Magic | | DUNGEON MAGIC | By Maldoror68. Set "Violence Mode" dip to "HARD" to enable blood. |
| elvactr | Elevator Action Returns | | ELEVATOR ACTION II | |
| gekiridn | Gekirindan | | GEKIRINDAN – Vertical | |
| gseeker | Grid Seeker: Project Storm Hammer | 1.3.0 | GRID SEEKER – Vertical | Fixed by Asure |
| gunlock | Rayforce – Gunlock | F3M | RAYFORCE : GUNLOCK – Vertical | Fixed by Asure |
| intcup94 | Hattrick Hero '94 – International Cup '94 | | HATTRICK HERO 94 | |
| kaiserkn | Kaiser Knuckle – Global Champion – Dan-Ku-Ga | | KAISER KNUCKLE - Kick Harness | Kick: 2 player, 6 buttons per player |
| landmakr | LandMaker | | LANDMAKER | |
| lightbr | Light Bringer – Dungeon Magic | | LIGHT BRINGER | |
| pbobble2 | Puzzle Bobble 2 – Bust A Move Again | v2.2O | PUZZLE BOBBLE 2 | 2.2J to 2.2O by rtw |
| pbobble2j | Puzzle Bobble 2 – Bust A Move Again | v2.2J | PUZZLE BOBBLE 2J | Fixed by Asure |
| pbobble2x | Puzzle Bobble 2X | | PUZZLE BOBBLE 2X | |
| pbobble3 | Puzzle Bobble 3 | | PUZZLE BOBBLE 3 | |
| pbobble4 | Puzzle Bobble 4 | | PUZZLE BOBBLE 4 | |
| popnpop | Pop 'N Pop | | POP 'N POP | |
| puchicar | Puchi Carat | | PUCHI CARAT - Spinner Optional | Spinner: Optional |
| pwrgoal | Hattrick Hero '95 – Taito Power Goal | | HATTRICK HERO 95 | |
| qtheater | Quiz Theater (J) | v2.3J | QUIZ THEATER 2.3J | Fixed by Asure |
| quizhuhu | Quiz Theater – Moriguchi Hiroko No Quiz De Hyuuhyuu | | QUIZ THEATER | |
| recalh | Recalhorn | | RECALHORN | |
| ridingf | Riding Fight | | RIDING FIGHT | |
| ringrage | Ring Rage | | RING RAGE – Kick Harness | Kick: 4 player, 2 buttons per player |
| scfinalso | Super Cup Finals | | SUPER CUP FINALS | |
| spcinv95 | Space Invaders '95 | | SPACE INVADERS 95 – Vertical | |
| spcinvdj | Space Invaders DX | | SPACE INVADERS DX | |
| tcobra2 | Twin Cobra II - Kyukyoku Tiger II | | TWIN COBRA II – Vertical | |
| trstar | Top Ranking Stars | 2.1O 1993/05/21/NEW | TOP RANKING STARS | Fixed by Asure. NVRAM isn't cleared on 1st boot. Do a factory defaults before use. |
| twinqix | Twin Qix | | TWIN QIX | |
| twinqixj | Twin Qix (Japan) | | TWIN QIX JP | |
SmokeMonster Patreon
YouTube | Twitter | Twitch

Darksoft: CPS2, STV, MVS
Supergun: HAS
PVMs: 2030, 1944Q, 3 x 8041Q
PCBs: 50ish | Sticks: 50ish