What are the Neo Geo Roll-Up Packs?
The Roll-Up Pack List is a record of known ROMs that can be placed on an SD card for a complete Darksoft Neo Geo MVS & AES Multi setup. It includes every Neo Geo MVS/AES game that is playable on the Multis. I'll update my lists whenever new content is available.

How to Use
Format a microSD card as FAT32 using Windows, not Mac or Linux.
Extract a pack to it using 7-Zip, maintaining the folder structure. If your card is the I: drive for example, the layout must be exactly I:\games\rom folders\

Get the latest menu, firmware, and instructions here


Troubleshooting
The most common problem is SD card incompatibility. Test multiple cards and see here for suggested brands. Format every time you update your card, before copying new files to it.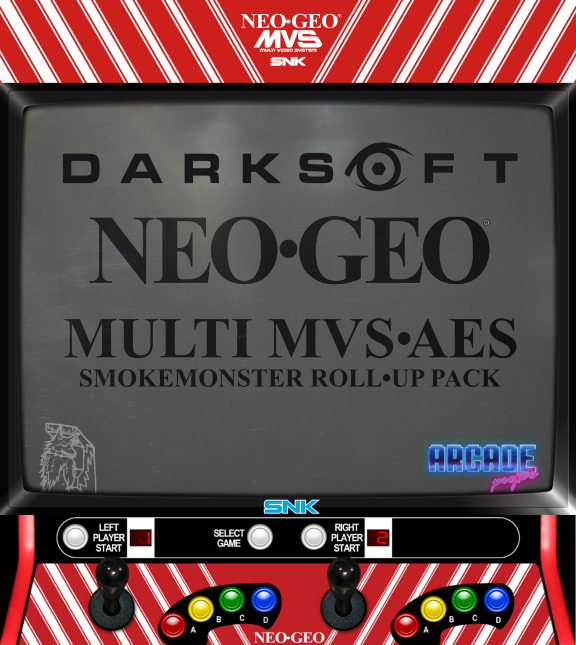 Download (here)
Please note that I am not sharing these files. I only create SMDB text descriptions of ROM organizations through a
Github Research Project.
Neo Geo Roll-Up Pack
A copy of all official MVS/AES games
Some bootlegs, hacks, and homebrew
FPGA config file in every folder
Fits on an 8GB card
Games List
Changelog
2020-05-12 - Added
Neotris
Demo. Chipsonsteroids will release the full game for free when it's finished as well
2019-03-04 - Beta 3.1: Added back KOF99, removed KOF99h, and added back the Monitor Tool
2019-02-25 - Beta 3
- Added several new hacks, bootlegs, and homebrew
- Replaced Super Sidekicks, King of Fighters '98 and Fatal Fury 2 with patched versions
- Removed add-on pack
- Removed all files except game ROMs (menu, instructions,etc)
2018-04-02 - Beta 2
- Updated menu to
04/02/2018
. Removed broken Metal Slug 2 Turbo.
2018-02-09 - Beta 1
- Initial release. MAMEUI audits all 'neodriv.hxx' and 'neopcb.cpp' sets as complete, minus Last Hope (because I removed it). A huge thank-you to
@Zarradeth
for the help with MAME!
Staff Roll
A huge thank-you to everyone supporting Neo Geo:
Darksoft
Mitsurugi-w "Mitsu"
CPZ - SAVEYOURGAMES
Alex
The beta testers
beast1x5
Arcade-Projects forum members!
Everyone who helped me get Neo Geo & STV Multis!