An other project of mine I started as I had the most difficulties finding this board for sale.
As far as I know this board is used only on Sega System 24 for racing games (Hot Rod and Rough Racer) and golf games (Jumbo Ozaki Master and Dynamic Country Club).
It handles analog inputs (e.g: steering wheels, gas and brake pedals).
Thanks to a German collector (not sure he wants to be named) who lent me an OG board I could make a reproduction :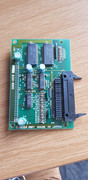 I kept components naming and general layout: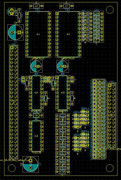 Looking for:
- faulty Space Harrier or Enduro Racer
- Super Nintendo CPU (3 needed)
- Sega trackball I/O board 837-8685 (will be reproduced and gerbers made freely available)
"I'd 1cc games but I have a real life."
01010011 01000101 01000011 01010010 01000101 01010100 00100000 01001101 01000101 01001110 01010101 00100000 01000111 01010101 01011001