PSA - RECAP YOUR EXCELEENA PSU IF YOU HAVEN'T ALREADY
So I finally got around to Re-Capping my Namco Exceleena power supplies. These were all original and had never been repaired as far as I can tell. All were manufactured in January or February 1994 according to the PCB date stamps. This means they are well overdue for a service. Also although the 5V and -5V outputs seemed ok the 12V was running very high on all 7 of my PSU's. In the range of 16-18V. Far from ideal.
Once I'd taken them apart the damage was obvious.
Here's an example. This was not the worst by far.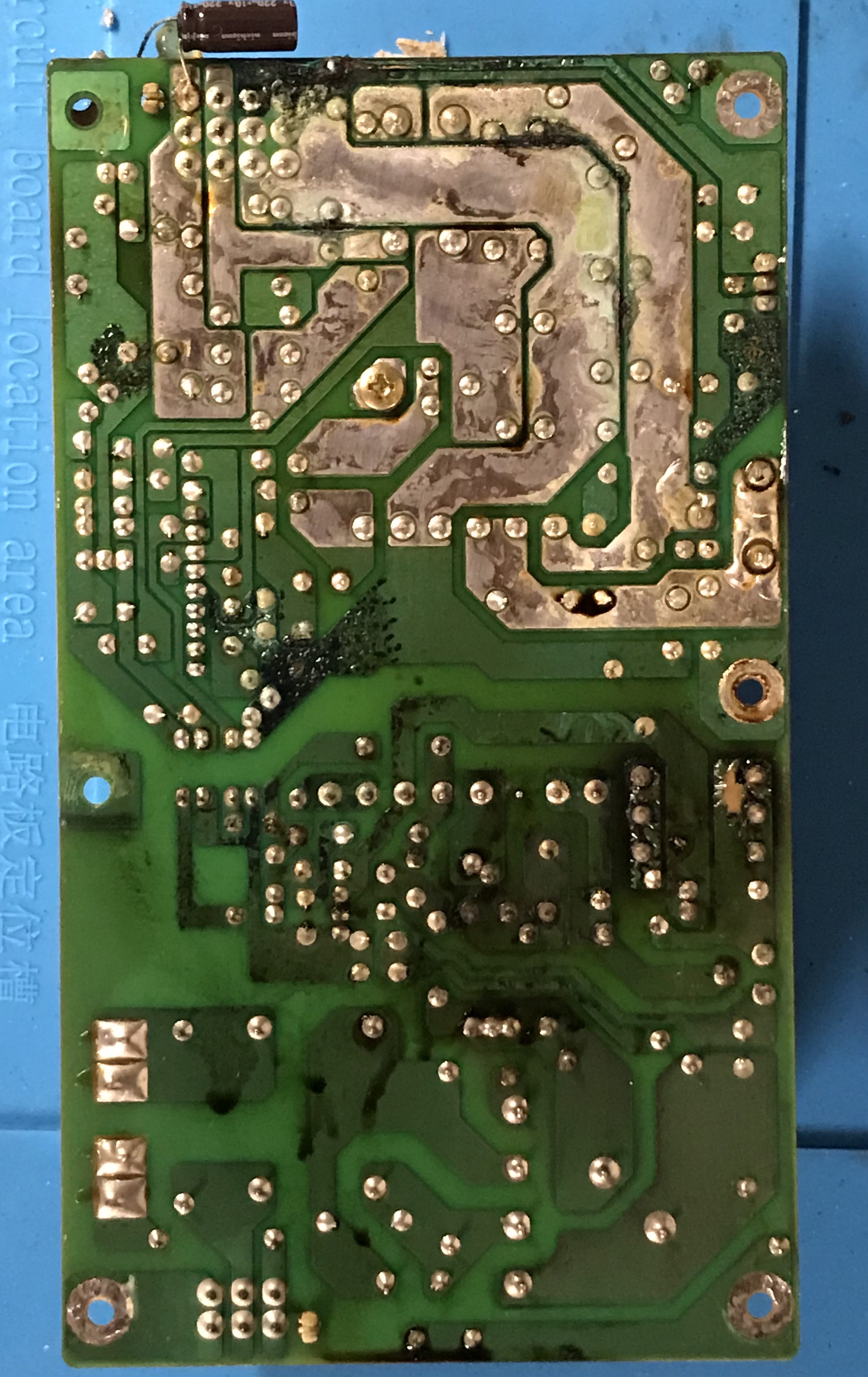 Steps:
1. I soaked them vinegar and cleaned them with PCB cleaning solution.
2. Then removed the existing capacitors.
3. Cleaned them again with PCB cleaner and place them in the hot water cupboard overnight to dry out.
4. Replaced the capacitors and repair any broken traces.
5. Cleaned off residual flux with Isopropyl alcohol.
6. Replaced thermal paste where needed.
7. Refitted in there original housing
8. Tested in cabinet and adjusted 5V (VR1) to within acceptable range without load.
9. Added game PCB and fine tuned 5V.
Here's a cap map:
Caps required
Nichicon GU Series
1 x 470μF 200V
Nichicon PS Series
2 x 470μF 16V
1 x 470μF 10V
5 x 2200μF 16V
2 x 220μF 10V
1 x 100μF 25V
1 x 10μF 50V
I used Nichicon as they were direct replacements for the original caps and are excellent quality. If you want to use you're preferred brand you can get the necessary dimensions using the Nichicon caps for sizing.
After completing this I have noticed a huge improvement in all the cabinets sound and image quality. I had a lot of artefacts on my monitors which has now completely gone. It really is night and day the improvement. If you have a Exceleena or any Namco cabinet that uses these PSU's they will need attention. I'm not sure how long the PCB's will survive. Some had a lot of corrosion but for now they are all working Excellent. There is also a pot VR2 that doesn't seem to do anything at all. I tried it and measured all output voltages on multiple PSU's and got no response.
Now I need to install Voltage monitoring on all my cabs. I have everything I need except time.
Cabs: Namco Noir x 4, Namco Noir Clone x 2, Namco Exceleena x 7, AW Super Sports Shooting USA,Time Crisis II 2P,
6
P X-Men, Battle Gear 2 2P and 4P Gauntlet. My partner is not impressed.
KLOV Bio Link
The post was edited 2 times, last by Blackfish ().