What is the Apocalypse Sega System 24 Multi Roll-Up Pack?
The Roll-Up Pack List is a record of known ROMs for a complete Sega S24 Multi setup. Both the raw MAME file and converted.ROMs are included. It includes every ROM playable on the Multi.
How to Use
Extract a pack to it using
7-Zip
. Then burn the appropriate rom file to each eprom. Extract the files for the usb stick to the root of the usb drive.
Troubleshooting
System 24 Support thread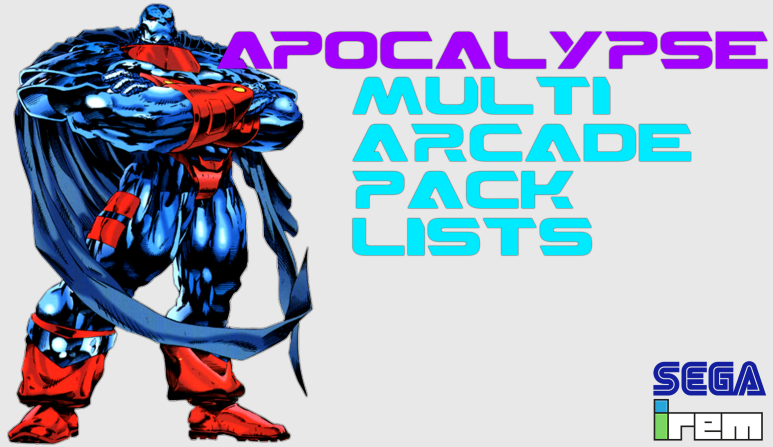 Download (here)
Please note that I am not sharing these files. I only create SMDB text descriptions of ROM organizations through a
Github Research Project.
Folder Contents
bnzabros
crkdown
dcclubfd
gground
hotrod
hotroda
hotrodj
mahmajn
mahmajn2
qgh
qrouka
qsww
quizmeku
roughrac
sgmast
sspirits
USB
DIP 1/2/3
000 ---- Dynamic Country Club (ROM)
100 ---- Hot Rod (floppy)
010 ---- Quiz Ghost Hunter (ROM)
110 ---- Tokoro San no MahMahjan (ROM)
001 ---- Tokoro San no MahMahjan 2 (ROM)
101 ---- Quiz Mekurumeku Story (ROM)
011 ---- Quiz Rouka ni Tattenasai (ROM)
111 ---- All floppy games except Hot Rod
Changelog
2019-01-22: v3.0 - Added Dynamic Country Club ROM version (no floppy controller needed)
2018-12-10: v2.0 - Added pre-compiled .ROMs
2018-12-09: Initial Release
Staff Roll
@Apocalypse
- Multi Creator