What is the Apocalypse Irem M72 Multi Roll-Up Pack?
The Roll-Up Pack List is a record of known ROMs for a complete M72 Multi setup. Both the raw MAME file and converted. ROMs are included. It includes every ROM playable on the Multi.
How to Use
Extract the files from the ZIP file and burn to the appropriate eproms.
Troubleshooting
M72 Support thread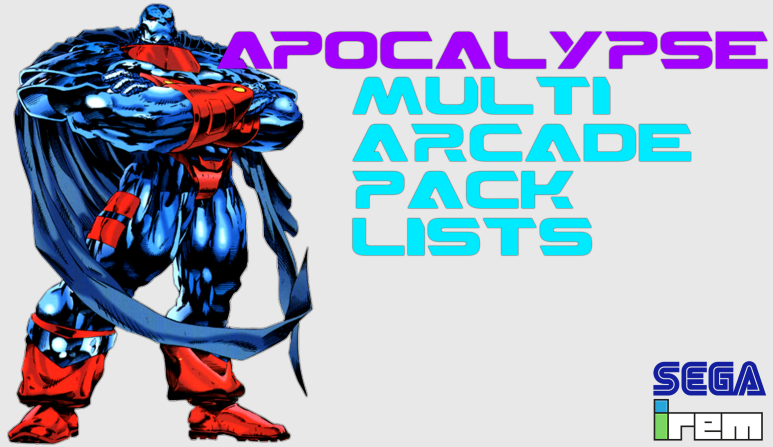 Download (here)
Please note that I am not sharing these files. I only create SMDB text descriptions of ROM organizations through a
Github Research Project.
Folder Contents
airduelm72
bchopper
dbreedm72
dkgensanm72
gallop
imgfight
loht
ltswords
nspirit
poundforpound
rtype
rtype2
xmultiplm72
Changelog
2019-10-20: v4.1 - Fixed some old files that were accidentally included
2019-09-25: v4.0 - Added Pound for Pound, renamed things to make it more logical
2019-04-08: v3.2 - Fixes a priority issue on some background elements for R-Type II in both V1 & V2 sets
2019-01-21: v3.1 - Fixed ROM 2 in V2 set, and renamed some files for consistency.
2018-12-15: v3.0 - Now includes V1 & V2 Board Sets. V1 was the first batch sold.
- Replaced 01.rom in V2 Set - Fixes the sound issue in Image Fight and the enemies not throwing shurikens in Ninja Spirits
2018-12-10: v2.0 - Added pre-compiled .ROMs
2018-12-09: Initial Release
Staff Roll
@Apocalypse
- Multi Creator