Here are the necessary resources to make your own SAT2NEO contoller adapters.
PCB Design:
@Frank_fjs
Code:
@twistedsymphony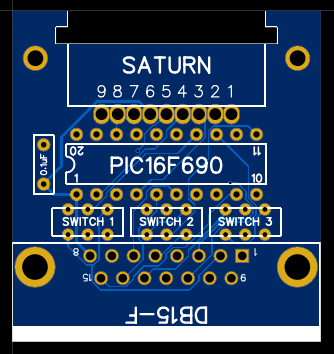 The schematic:
BOM:
Gerber-SAT2NEO-PCB (39.2mm x 42mm)

Gerber-SAT2NEO-LID (39.2mm x 12mm)

SAT2NEO-HEX file

PIC16F690

DB15 female right angled connector

Saturn controller connector, female, harvested from Saturn controller extension cable

100nF poly capacitor

3 x DPDT slide switches: aliexpress.com/item/20PCS-Lot-…35dfe&transAbTest=ae803_5

20 pin 0.3" dip socket (optional)

2 x M2 x 9mm high female to female standoffs

4 x M2 x 5mm screws

Suitable programmer to flash the code

The Saturn controller extension cable plug is easily popped open with a small flathead screwdriver.
Desolder the wires leading to the pins of the connector.
Bend the pins at a 90 degree angle, towards the bottom lip.
Insert and solder to PCB.
The Saturn connector has a lip on the bottom of it which sinks into the cutout of the PCB. This prevents horizontal movement.
The LID PCB secures the connector down and prevents vertical movement.
The above two measures ensure a securely mounted connector and an elegant appearance.
The inputs are mapped as:
UP - UP
DOWN - DOWN
LEFT - LEFT
RIGHT - RIGHT
A - B1
B - B2
C - B3
X - B4
Y - B5
Z - B6
L - COIN
R - START
START - UNUSED
The six face buttons, ABCXYZ, can be remapped via the 3 x slide switches.
Switch 3 alternates mapping between arcade inputs 1 and 4 to Saturn buttons A and X
Switch 2 alternates mapping between arcade inputs 2 and 5 to Saturn buttons B and Y
Switch 1 alternates mapping between arcade inputs 3 and 6 to Saturn buttons C and Z
Enjoy!
The post was edited 12 times, last by Frank_fjs ().