This was a case that I made for the SAT2NEO adapter
You can read about the project here
https://www.arcade-projects.com/threads/sega-saturn-to-neo-geo-controller-adapters.8858/
and Arthrimus who invented the Sat2Neo has also created an awesome case here
https://www.thingiverse.com/thing:4046492
I wanted it to match the design language for the case that I'm working on for the minigun supergun, and the minigun supergun 4 player adapter. So it's a bit thicker than it needs to be to match the thickness of those other parts. The mechanical strain relief was also a bit tricky for the Saturn connector. And because of the clearance between the two DB15 ports I had to squeeze things in. Because of the nature of the thing (it's an adapter) it's going to get plugged and unplugged and knocked around a bit, so I made it quite strong.
But anyway, eventually got to here. Top and bottom.
There are two versions of the bottom shell. One that prints easily but requires some rework (the holes need to be drilled), Other that does not need rework but does require filament retraction to be dialed in really well (capricorn tubing or direct drive extruder)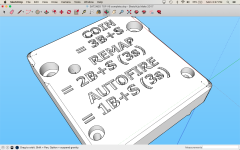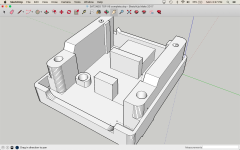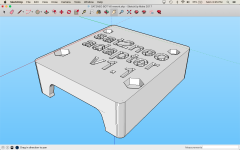 There is a hole in the top shell so the LED is visible. When I make these I'll be putting a 4mm clear polycarb rod into the hole so that the LED is visible on the surface of the shell from any angle. The hole is 3.8mm so the rod does not slip out.
The BOM for the case is as follows
1 x clear polycarb rod, approx 4mm x 18mm
2 x 20mm socket head M3 bolts
2 x M3 nuts
2 x 20mm socket head M2 bolts
2 x M2 nuts
Will post some pictures and put it up on Thingiverse when I get a chance