I'm sharing here what I posted earlier on thingiverse.
If you have your own 3D printer you can get the STL file for this on thingiverse:
https://www.thingiverse.com/thing:5404242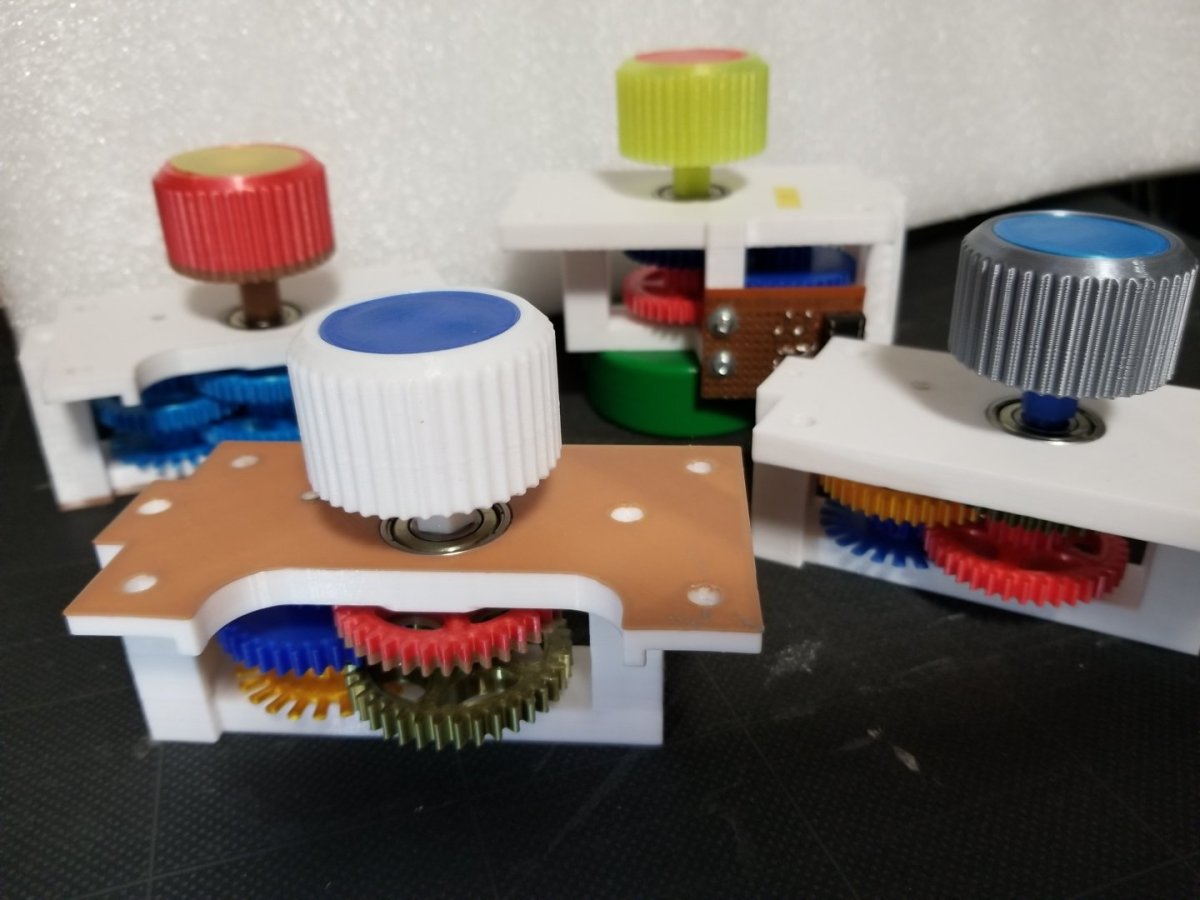 Spinner used in arcade version of Arkanoid, Puchi Carat, etc.
The controller was made with a 3D printer.
Spinners are called paddles in Japan.
Use the following parts in addition to the parts made by 3D printers.
-3mm Metal shaft (aluminum in the example) 39 mm, 69 mm each.
-608 bearing
-M3x6mm screw Installation of sensor PCB.
The mounting holes have the same dimensions as for arkanoids.
Equivalent to Seimitsu Kogyo's MS base, the thickness of the screw hole is 4 mm.
Since the shaft is normal and long, there are two types, so use it according to the environment.
Two types of frames are available. Please use either the integrated type or the upper and lower division.
The gear ratio of 14:38 is about 1:20 with 3 gears. The number of slits is 24. (Equivalent to arkanoid)
Since there are 3 gears, if you use a PCB with 2 gears, the input will be reversed. Replace the wiring.
By inserting an M16 nut in the knob, you can increase the weight and increase the inertia.
Please install it as you like.
Please prepare the sensor PCB separately
-Diverted from other spinners
It is intended for arkanoids or compatibles, but some may require mounting adjustments.
-Make your own (material cost is about $ 2)
Reference "Sensor picture book for game board" in "Waikun's Mechanical Club"
-Multi-sensor board for paddle controller (1650 yen)
Made by MarineDrivePcbWorkShop and available online.
It works fine within the range I used, but I'm a breakout amateur, so I'd be happy if you could give me some impressions and improvements from people who are playing spinner games.
--------