Hey guys,
I recently picked up a Boardmaster supergun while in Japan that came with a JP21 cable.
I am going to rewire it for euroscart and I found the JP21 cable has this 75ohm resistor between the "AV Control" and "Blanking" pins: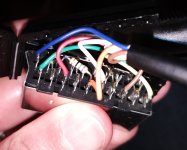 Does anyone know what this is for and what I should do with it when converting to euroscart?
Cheers!