Been toying with this for a while now and think I'll finally list it. Consider this a strong interest check, ha.
Bit of surface rust throughout the few metal bits, but nothing that can't be fixed pretty easily.
Q sound Amp works great. Monitor is bright and crisp but does need some horizontal linearity adjustment, and I'm sure adjustments all around. The MS8-25FAR in it was recapped about 3 years ago.
It is working great and comes with a set of art from the one and only Barry Bruise (Capcom stickers and cpo IIRC, it's still in a box from Barry).
It also has the optional rotation mech which is near impossible to find nowadays.
Will come with a 2p CP, whether it's this one or the other one I have that has the original sf cpo on it, I'm not sure yet.
Looking for local pickup paid in cash at zip 92504 or a cash equivalent sale where once it leaves my doorstep it is no longer my concern.
$4000. No trades. Not open to offers. It sells at this price or goes into storage, both are fine by me.
Will take more pictures for serious parties.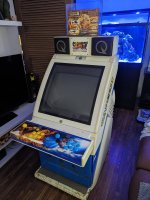 Last edited: