Finished my batch of AWSD power supply interface PCBs. These boards screw directly to the
Meanwell QP-150-3A
and provide the same power pin-out as found on the
stock power supply in the AWSD
. This allows for a direct drop in replacement of the AWSD power supply using the Meanwell QP-150-3A and this interface board.
For the design and development work, please see this
initial project thread
.
I have 18 of these boards for sale; I built 20 and am keeping 2 for my current and future AWSD cabs. Showing my appreciation to this forum, I want to keep the price as low as I can. The raw BOM cost for each board is right at about $10, Molex connectors aren't cheap and the voltage LCDs I purchased from China were the wrong size, so ended up using ones off Amazon that were 2x the cost. Also, I did 2 OSHPark runs of boards @ $26/run getting the design more fine tuned, plus my original Mouser order of crimp connectors when I thought I was making wiring harnesses, puts me in about $15 per board. After assembling, cleaning, calibrating the voltage LCDs and mounting all the nylon hardware; each board has a fair amount of time put in. I value my time at about $15 per board. Added all up that comes out to $30 per board, which is the price I settled on for this run.
$30 per board + shipping (PP friends and family)
Some noted features:
1. JP1 on this PCB allows selection of 3.3v or -5 volts for pins 2,8 of the 12-pin molex connector. On my AWSD cab, these pins are not populated and remain unused. The stock power supply has 3.3 volts present on these pins so that is the 'default' setting of this jumper. You could potentially add -5 volts to your AWSD by populating the pins in the mating molex connector and also the pins in the JAMMA connector, then move the solder blob to the other pads. This carries some risk as if you were to put a stock Power supply back in the cab, you would be feeding 3.3 volts to JAMMA pins E,5. I recommend anyone doing this modification add a BIG BRIGHT label to their AWSD 12-pin molex connector reminding that IT IS NO LONGER COMPATIBLE WITH STOCK AWSD power supplies. However, even with this risk, it seemed like a pretty slick way to add -5v to the stock AWSD without any cutting or splicing.
2. The PCB has Electroless nickel immersion gold ENIG finish - so the exposed tabs that screw to the power supply are less likely to corrode since they are gold plated. The PCB has traces on the top and bottom, as wide as I could make them - there is plenty of copper to carry 15+ amps on the 3.3, 5 volt rails.
3. The field ground (FG) connects to both the 4mm J5 through-hole as well as pin-5 of the JST AC input connector.
4. On the rear of the PCB are JP2 and JP3. These solder pad jumpers allow the use of voltage LCDs with different wiring ordering. I had made the board assuming I was using voltages LCDs from Ali-Express that were wired one way, but ended up using Amazon voltage LCDs that were wired in reverse. Using JP2 and JP3 this board can support either voltage LCD wiring configuration.
5. The SW1 switch selects between 3.3 rail and the 5.0 rail to be displayed on the voltage LCD. I could have added the 12 volt rail and used a 3 position switch, however the Meanwell QP-150-3A only has adjustments for 3.3 and 5.0 - so those are the 2 rails that I decided to switch between.
6. I used the fully shrouded JST VH connector to provide extra plastic around the AC input connector as this is the one dangerous part on the power supply. Also SW1 was placed as far from the AC input connector as possible.
7. I ended up using double nylon nuts on each nylon screw. Based on my QP-150-3A this gave the perfect spacing and let the interface PCB sit flush on the screw terminals. If this ends up being too tall, you can simply take a nut off each screw and cut the nylon screw down a little bit. Its difficult to know the variation in tolerances in all the Meanwell QP-150-3A, so there is some adjustments that can be made to improve fit.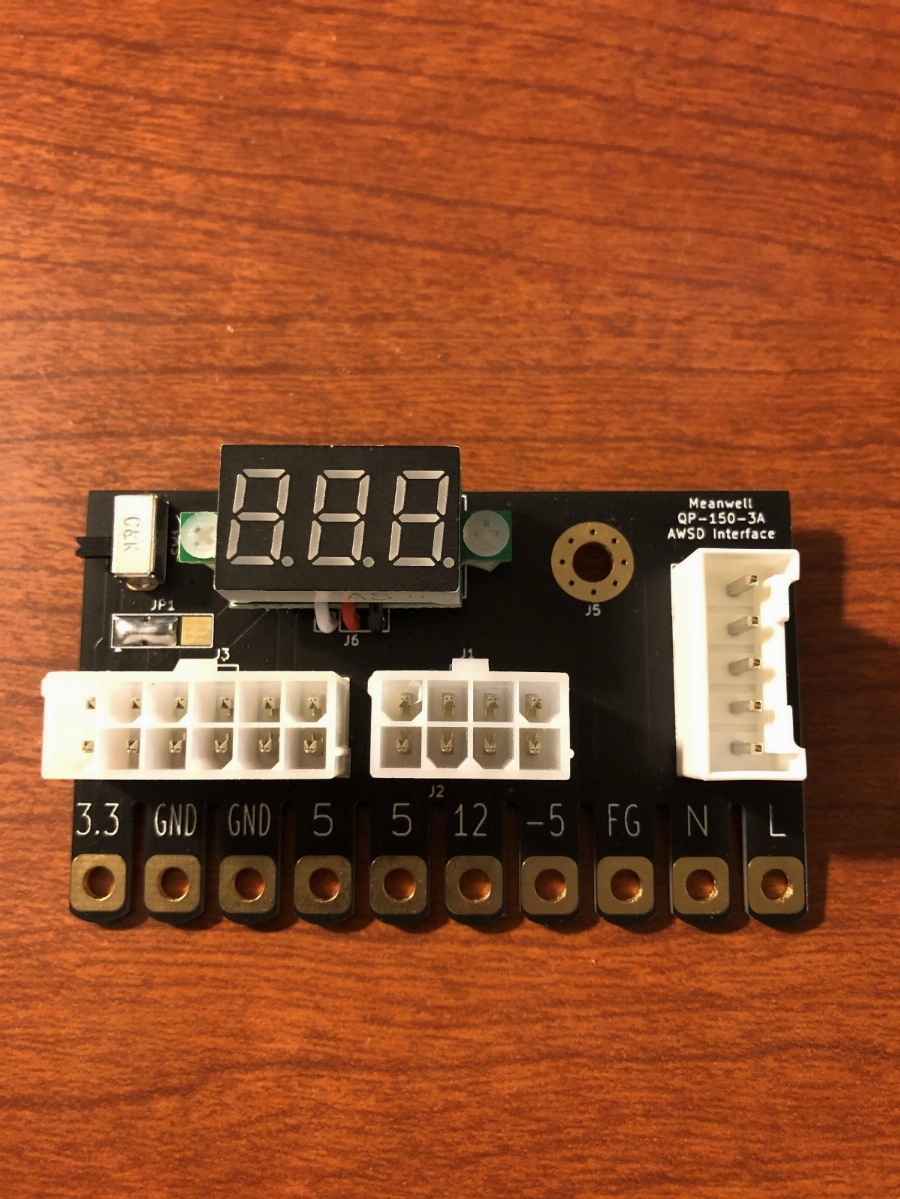 Based on the PMs and posts in the original thread, here is the list of interested parties and the quantity.
1. radiantsvgun (1) (PM Sent)
2. fuzzbuddy (1) (PM Sent)
3. carboncycle1313 (1) (PM Sent)
4. bagheera369 (2) (PM Sent)
5. DK310 (1) (PM Sent)
6. 300wins (4) (PM Sent)
7. PARTY MAN X (1) (PM Sent)
8. Paul79 (1) (PM Sent)
So that is
11
12
claimed and
7
6
up for grabs still. Sorry if I missed anyone, I was going through the development thread and only counted those who specified that they wanted an interface PCB.
As far as shipping goes, just ordered my padded envelopes and should have them May 6-7th, so they wont be shipping out till a few days after. Never have sold anything in 'bulk' before, but I believe I can get folks and accurate shipping cost based on the weight and the zip code its going. Setting up my USPS account tonight, and will weigh a board in a padded envelope I have lying around to get an idea.
Those that I have listed at interested, please shoot me a PM with your zip and confirm the quantity you want. I will get back to you with a total price including shipping.
Last edited: