Reducing my candy cab collection. Some of you probably already saw the post at AO but I figure I post it here too.
The Pony is already sold (so are the MV25UP and Naomis if anyone catches wind of the other cabs originally posted.)
I can ship in the EU but due to covid the prices have risen to about 400 euro fully insured in EU. I think it's cheapest if you arrange shipping from your end (Sweden is expensive).
Namco Consolette 26
-
4000€
-
Photo album link
This rare beauty is in very good condition. Originally imported by Ronnie RKLOK. It has been restored and repainted. It was baby blue but received the deep blue colour instead, there is no rust whatsoever and it's clean inside, some fine scratches all around in the unpainted parts but generally in excellent condition. Screen has some light burn-in after Tetris but it's mostly only noticeable on white background. You can make it out a bit when turned off. The picture is a bit soft but still good. It's an original Toshiba tube with Nanao MS8-26 chassi. The cabinet has individual volume control for left/right with beefy speakers, and volume control for the headphone output in the front. Joysticks are LS-32s and buttons are NOS original Namco 28mm. It's a joy to play on them. CP overlay is a repro of decent quality.The light fixture is there. The Namco logo is a repro sticker. The deep blue cabinets were sold as generic and didn't get the embossed metal Namco logo. All keys and locks are included. You won't find many Consolettes in this condition outside of Japan or...anywhere. Runs on 100V.
SNK MVS-U4
-
2200
€
Photo album link
Unrestored original cabinet. This one is from an operator "Adonbolagen AB". It is clean with some scuffs on the control panel. Some scratches here and there but nothing major, no rust. The coin door have been properly massaged by someone to get to those sweet hard earned coins. But besides that it's in an overall good condition. The light fixture is in there and works. There is no card reader and the coin chute is plugged since this operator put another coin mech on its side. They did this to all their SNK cabs. Headphone out is plugged too. The monitor is original and perfect! No burn-in, it's sharp, crisp and has vivid colours. NOS Omron buttons (not installed in picture). All keys and locks are included. 4 slot system board is of course included. Runs on 230V.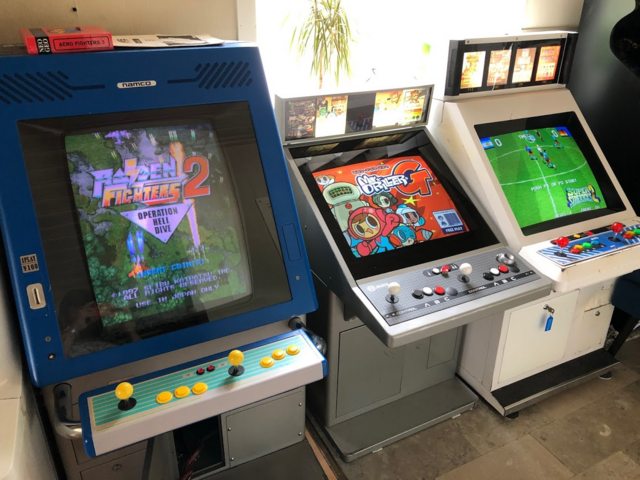 Last edited: