Joined

Jan 20, 2016
Messages
Reaction score

5,312
Location

Utah USA
I got a good deal on a Gun Hohki Irem M92 PCB because it booted up with errors.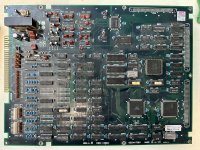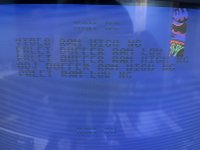 On M92, the main CPU, graphics rendering hardware, sound synth, sound amp, system RAM are all on the top board. The bottom board holds the sound CPU, primary video RAM and all the ROMs.
First off, I swapped the top board from another fully-functional M92 game over. Gun Hohki booted up and is fully playable and functional with the different top board.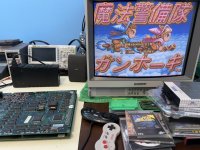 The problem is definitely with the game's top board. Schematics for M92 is not available unfortunately, so I did some Googling of the error messages and looked over the MAME M92 source.
@caius
repaired a M92 game with a "Palette Buffer RAM" error once by replacing the IC43 & IC44 RAM chips:
https://www.jammarcade.net/irem-m92-motherboard-repair-log/
I desoldered IC43 & IC44 from the board. Both tested Bad in two different memory testers.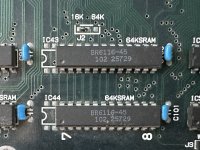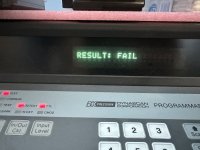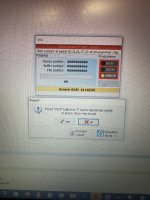 I installed sockets and replaced them with two 6116 series SRAM chips that tested Good on both of my testers.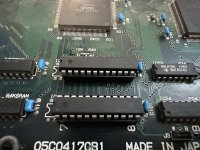 Unfortunately, this made no difference - the same diagnostic errors still come up.
Coincidentally at this time, I was talking with
@wickerwaka
on Discord. He recently released a M72 core for the MiSTer and is now digging into the M92 hardware. He shared the following helpful information with me:
IC43 and IC44 are the OBJ RAM
IC37 and IC38 are the OBJ and PALET Buffer RAM
IC15 and IC16 are the PALET RAM
Access to Palette RAM at IC15 and IC16 doesn't go through any of the custom graphics ICs in the lower-right corner.
CPU access to IC37, 38, 43 and 44 is through IC42.
Video RAM is IC25 and IC26 on the B board.
IC42 copies palette and obj data from IC37 and IC38 to IC43 & IC44 and IC15 & IC16 during the VBlank.
The two PALs close to the CPU manage a lot of the memory access. You could try swapping those between the boards.
With that info in hand, I next decided to swap the two PALs adjacent to the CPU with the ones from my operational testing top board.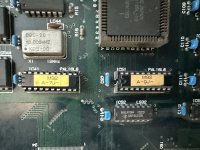 Unfortunately this didn't make any difference.
I'm out of room for photos on this post, so onto the next…