This has been in the making since the LazyFinger, this is the same circuit as the LazyFinger, but instead for JAMMA cabs. Fine tune the rapidfire to your liking on the fly. Supports rapid fire on both A and B buttons per player with individual on/off switches in case you don't want to mess with plugging/unplugging it from the board/harness. The rest of the device is complete passthrough. Just like the Atlas, it supports both the voltmeter(w/switch for 5v and 12v readings) and Negatron for cabs that need to add -5v.
Pre-orders will open at a later date. Proto boards had a slight routing problem which will be fixed and retested before pre-orders open.
***UPDATE, Spitfire is now SOLD out and gone for good, thanks guys***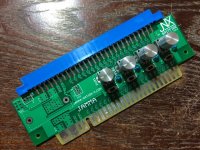 JNX Spitfire is no longer in production. But I still have some 1.1 and 1.2 PCBs so I'm able to build a few more. Thanks to those that supported it.
Last edited: