Joined

Jan 28, 2019
Messages
Reaction score

18
Location

MA
Hi All,
I am looking to sell my Capcom Q25. I bought this from a group order on the neo-geo forums back in the day.
The good:
It works, powers on, sounds great, includes rare monitor rotation mechanism, nice sticks and buttons, monitor looks nice, recapped monitor board in 2019 by Sharp Image Repair.
The not so good:
The monitor looks great, but the left and right will wave a little bit or shake. Sometimes it goes away, but it seems to mostly be there and more evident on startup. I usually play with the monitor board controls until it looks good, but again, sometimes it will come back. I can still play it and have fun, but it is there and I can notice it. It has always been this way since I bought it many years ago. I imagine it needs some kind of fine tuning / alteration / fix other than the board recap that I had done.
There is a W and M carved and etched into the glass. It was like that when I got it and honestly I don't even see it most of the time but it is there and etched in. I think it might be fixable? I just never tried. I used to put a move sticker over it and I wouldn't see it.
I also have Marvel Super Heroes Vs Street Fighter (has suicide battery and no idea when it was last changed) and Street Fighter 2x (phoenixed, with suicide battery removed) and a single B board. They both are tested and work great.
I have an additional chasey for the monitor that I bought on ebay used and untested in case I ever needed another one to recap. I never did anything with it and it sits in the closet, but want to include that in the sale as well.
Looking for 4,500 dollars cash for everything. I am in MA in the greater Boston area. I am not looking to ship this unfortunately. I just want to clear our some space in my basement and I just don't play this much anymore unfortunately.
I have a plenty of feedback on the old neo-geo.com forums under allien133 and my ebay:
https://www.ebay.com/usr/allien133
I can get more pictures or even videos of it running with the two games. Please send me a PM if interested.
Thank you!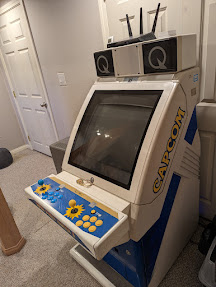 Last edited: