I just got a new arcade PSU and have wired it up to be plugged into the wall. Before I plug any boards into it, I want to try and dial it in to as close to 5.0v as I can. I freely admit that I'm not an EE but I have had this MM for quite a while (even replaced the battery today) and Im just not making heads or tails out of this. Here are some images:
Ive got the PSU plugged into power, with the + probe in the 12v port and the - probe in the +5.
As you can see my readout doesn't seem to make sense (at least not to me) Turning the adjustment knob does make a difference but it doesn't get me anywhere near 5v.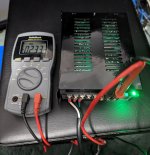 Here is my MM selected to direct current readout: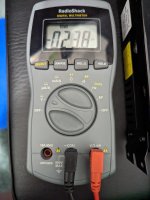 And to AC readout: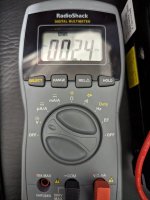 I thought maybe the battery is dead, but this now has a brand new 9V battery in it. Im not certain what I'm doing wrong here. I've used this to find voltage on several boards in the past as well as just to test continuity (which does seem to work properly).
I'm sure its something mundane I'm missing but I can't seem to figure this out. My next step would be to get a new MM but not if I don't need to.