Joined

Dec 8, 2017
Messages
Reaction score

1,955
Location

San Francisco Bay Area
Splitfire is available from the Birdland Arcade store.
Splitfire
is a device that makes capturing JAMMA footage easy. It buffers RGB signals and correctly isolates and attenuates the balanced audio from JAMMA PCBs. The days of handwired resistor dividers, channel adjustment knobs, and custom harnesses for capture are over.
RGB comes through a VGA port and may be plugged directly into common equipment (OSSC, X-Capture, USB3HDCAP, etc.)
Audio comes through a 3.5mm TRS jack ("stereo mini").
Male JAMMA edge is hard gold plated, and the female JAMMA socket is the high quality Hirose CR7E-56DA
with
the G-pin key.
Splitfire is available from the Birdland Arcade store.
Coming soon, for
$100
, is Splitfire, a JAMMA capture and streaming solution.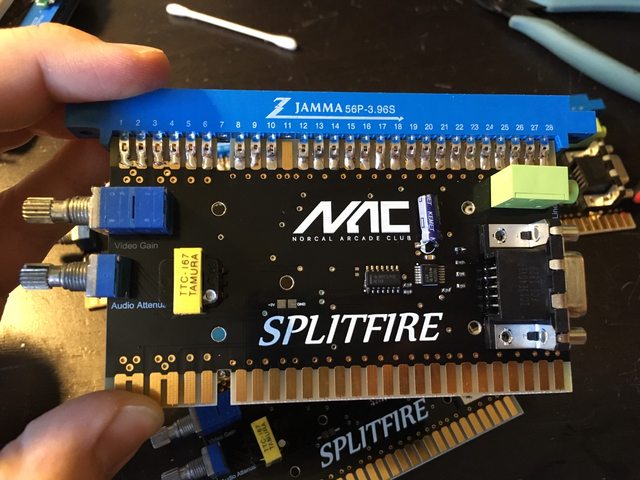 Features:
* Video Isolation and Attenuation
The connected sink will not affect the brightness or termination on the original JAMMA setup. JAMMA games have non-standard video levels, so a contrast knob is mounted on the board. Again, doesn't affect the original JAMMA cab setup. An optional low-pass filter may be enabled. The video buffer can drive a 75-ohm load (like a Sony PVM).
* Audio Isolation and Attenuation
Audio is isolated via a high impedance audio transformer, the Tamura TTC-167 (which costs $6.8

for safe line level audio conversion. Attenuation is provided inline as well.
* Sync Buffering
Sync is buffered either through the video buffer (default) or a 74HCT buffer. The sync output is capable of driving a 75-ohm load (like a Sony PVM). In either case, the JAMMA cab sync line is buffered separately, so a low-impedance termination will not cause the cabinet to lose sync (common with System 16B boards)
* Hard gold edge connector
We shelled out for the proper hard gold coating and beveling instead of ENIG or HASL coating, so the connector won't tarnish with heavy use.
* Keyed JAMMA connector
Pin 7 is notched out so you won't put this thing in backwards. This isn't a bootleg board covered in Actels!
Currently the first batch has been assembled and is in the hands of many happy arcade gamers. A public release will follow shortly.
Last edited: