Joined

Dec 8, 2017
Messages
Reaction score

1,696
Location

Northern California
Coming soon, for
$100
, is Splitfire, a JAMMA capture and streaming solution.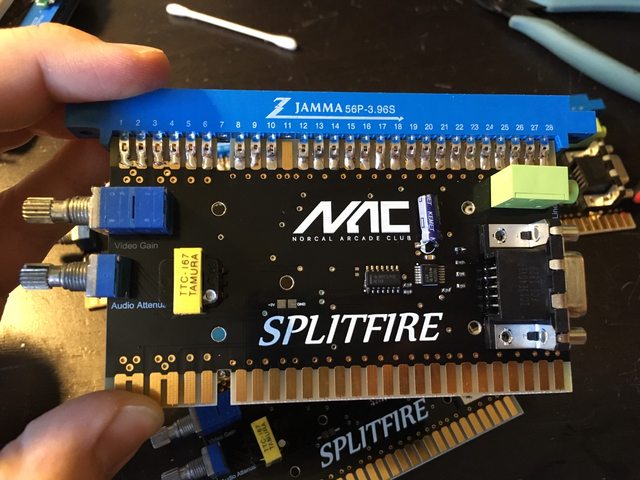 Features:
* Video Isolation and Attenuation
The connected sink will not affect the brightness or termination on the original JAMMA setup. JAMMA games have non-standard video levels, so a contrast knob is mounted on the board. Again, doesn't affect the original JAMMA cab setup. An optional low-pass filter may be enabled. The video buffer can drive a 75-ohm load (like a Sony PVM).
* Audio Isolation and Attenuation
Audio is isolated via a high impedance audio transformer, the Tamura TTC-167 (which costs $6.8

for safe line level audio conversion. Attenuation is provided inline as well.
* Sync Buffering
Sync is buffered either through the video buffer (default) or a 74HCT buffer. The sync output is capable of driving a 75-ohm load (like a Sony PVM). In either case, the JAMMA cab sync line is buffered separately, so a low-impedance termination will not cause the cabinet to lose sync (common with System 16B boards)
* Hard gold edge connector
We shelled out for the proper hard gold coating and beveling instead of ENIG or HASL coating, so the connector won't tarnish with heavy use.
* Keyed JAMMA connector
Pin 7 is notched out so you won't put this thing in backwards. This isn't a bootleg board covered in Actels!
Currently the first batch has been assembled and is in the hands of many happy arcade gamers. A public release will follow shortly.