Here's my last reproduction of a custom IC, or better, this is a 3-in-1 replacement of the Namco MCUs marked '60A1', '63A1' and '64A1'.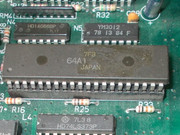 They are mostly the same part with identical package (DIP40) and pinout but they are not interchangeable.
'60A1' found on Pac-Land, Dragon Buster, Sky Kid (all revisions except early one), Sky Kid Deluxe, Alien Sector, Baraduke, Metrocross, Rolling Thunder and all other System86 games.
'63A1' found on first revision of Sky Kid.
'64A1' found on all System 1 games (Splatterhouse, Galaga88, Pac-Mania, etc)
Needless to say the original part is very prone to failure (especially the '64A1')
My replacement covers all three MCUs, you can simply select the desidered one via a dipswitch:
Here's testing of the replacement on different boards :
'60A1' on Rolling Thunder :
'63A1' on Sky Kid (first revision)
'64A1' on Splatterhouse :
A special thank to my friend 'uchopon' for helping me to achieve this result.
Last edited: