Joined

Aug 20, 2015
Messages
Reaction score

365
Location

Orange Park, FL USA
2/21/23 11:42:00AM Edit:
1 unit left! DM for next batch
Hey everybody! I made a batch of these Meanwell RT Series PSU cover assembly for myself and some friends and have 3 extras. While I use it on a RT-85A, they will fit most (if not all) in the RT series including the RT-125 and RT-65.

I put a LOT of time into everything I assemble and make sure I go above and beyond on every aspect to make sure its a solid piece of hardware that will stand the test of time! Printed on Hatchbox True Black PLA with 4x walls.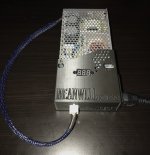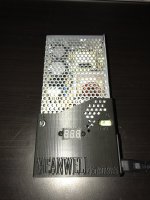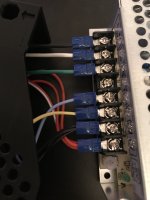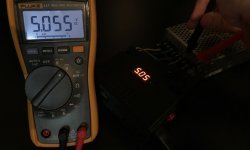 The original file comes from
Printmaker
on Thingiverse
here.
While I liked the overall design, there were many things that needed to change. My remix includes both functional as well as aesthetic improvements including:
Arrows to indicate where screw-point are for easy assembly
Digital voltmeter displaying current voltage on 5v line. Metered to ensure accurate representation of actual voltage. (See photo)


Reinforced structural points integral to the cover assembly.


Comes with Extra screws for side and bottom mount as well as 6 Rubber feet to ensure no slippage
Embossed lettering and geometric hole design matching original cases flow


IEC320 UL Listed Outlet with Lighted Rocker Switch


All 18AWG wiring


Molex Mini-Fit Jr. ( 6-Pin, 2 Row ) standard wiring for quick connect / disconnect for use with any console or supergun.


All wire crimped and soldered to spec in respective application, no chance of slipping out of socket.


Optional Additional cables, sleeved in blue/black cross weave for a number of applications.
Whats included:
-1 Cover assembled with Voltmeter and all necessary wires, plug and play.
-1 3ft power cable.
PSU OR CABLE FROM PSU TO YOUR DEVICE OF CHOICE IS NOT INCLUDED, you have to have your own Meanwell to use with. (See photo below )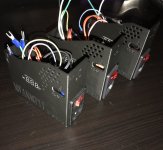 Shoot me a DM if you want to snag the one, $55 shipped CONUS (additional shipping charges outside the contiguous US apply). If you want a custom cable for supergun etc add $15. I accept Paypal F&F (or add 4% for Goods and services), Venmo, Zelle.



I WANT TO REITERATE THIS

DOES NOT

COME WITH THE MEANWELL PSU, THIS IS ONLY THE ASSEMBLY COVER, WIRES ETC IN PHOTO ABOVE.
Last edited: