I have a Oedo Fight board, which is the censored version of the game [no blood, no gore, no fatalities]. I'd like to convert it to the "bloodshed" version, which is
ten times more fun because of how ridiculous the gore is
. The Western version is called Blood Warrior for a reason. Anyway, the game is actually two PCBS layered on top of each other. All of the ROMs are on the bottom one. Only three are socketed: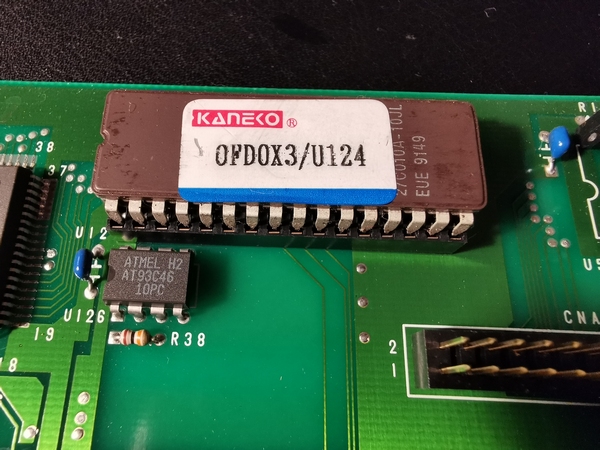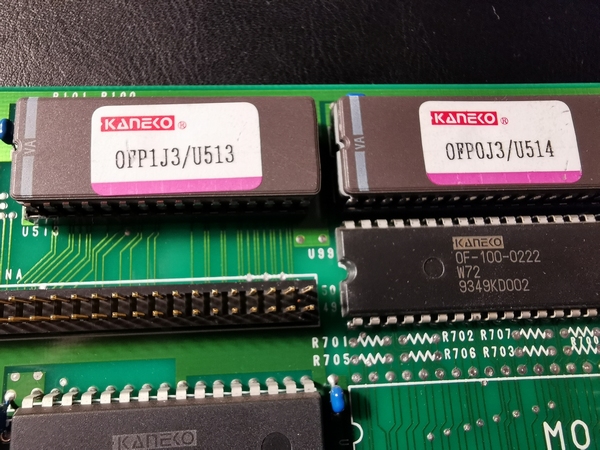 Looking at MAME files, I found ofd0x3.124 in a bloodwar.zip [CRC32 2BEC7EFD]. It's 131,072 bytes. The later two are found in oedofight.zip [CRC32 7D0D4651], which contains only three files:
Code:
     FILE NAME     |   CRC32  |  BYTES
-----------------------------------------
 of-101-j-0224.101 | 83A1F826 | 1,048,576
-----------------------------------------
 ofp0j3.514        | 0C93DA15 | 524,288
-----------------------------------------
 ofp1j3.513        | CC59DE49 | 524,288
The Western release is uncensored as well. I can't find the censored Oedo Fight dump at the moment, so I only have the Blood Warrior to compare against. Some MAME files don't duplicate files, but only include those that differ from what's considered a "base release". So ,while ofd0x3.124 seems to be shared across these boards, ofp0j3.514 and ofp1j3.513 are exclusive to the Japanese version. The question is, where is the blood and gore hiding. Knowing my luck, it's in the unsocketed of-101-j-0224.101. Does anyone have the Oedo Fight ROM that is NOT the "bloodshed" one? It's easy enough to check. Just hit the opponent, and if there's any blood, it's uncensored.
Also, why would you socket only these three? My initial guess was that socketed ROMs were what's different between versions, to make production easier.