This one came to me as "parts or repair only" and had been repaired unsuccessfully by someone else. Normally this is a bad sign - nothing harder than undoing someone elses failed repairwork before repairing
But I gave it a go anyway
Monitor Was dead, dead - would not power on because power switch was stuck - suspect stuck power switch
Disassembled chassis, repaired impact damage, straightened chassis, re-glued all mounting posts with the local equivelent of JBweld plasticweld epoxy putty, freed up stuck power switch, confirmed correct operation of power switch, re-assembled
Switched on power with working power switch - monitor would not power on - no green power light, no degauss sound, no neck glow, no static electricity on tube - suspect bad power supply
Measured voltage at power supply - input voltage OK, no output voltage on any line - suspect dead power supply.
Inspected power supply - previous owner had attempted (unsuccessful) repair. Weirdly enough they had not swapped the big power transistors or the big caps that normally cause them to fail. But it was a bloody mess. Gave up trying to fix someone elses failure.
Swapped dead power supply with known good power supply from 1995 PVM-14M2
power on to pulsing green power light, no degauss sound, no neck glow - suspect bad HOT (2SD1878-CA at Q501)
Remove HOT, Test for short across HOT emitter pad and ground, no short. Test HOT, HOT Bad
Replace HOT with known good HOT (2SD1878-CA at Q501) borrowed from another monitor
power on to solid green power light, degaus sound, neckboard glow, static electricity on tube, no picture - suspect Power supply voltage.
Measure power supply voltage output +115 good, -15 and +15 too low. This was interesting because this same power supply functions perfectly in a 14M2.
Replace power supply with another known good power supply one from a year 2000 14M2
Power on, working as expected, fixed
Other notes: IIt's unusual for the power supply to be dead-dead, normally they will produce something on some line, but not in this case. I'm not sure if it failed like this, or if the incompetent attentions of the previous owner left it in this state
So I'm unsure if the power supply popped and took out the HOT, or of the HOT went and took out the power supply. Normally the power supply goes first and destroys the HOT.
The HOT is an NPN transistor with diodes and clamp resistors and all other kinds of weird stuff. It's hard to get sensible test results with a multimeter.
In my transistor tester the known good one looked like 2 diodes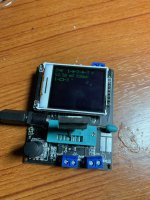 the bad one would not even test, For some reason it kept forcing the tester into self test mode.