Restoration is a strong word for this as it's mostly complete and working. If you followed any of my other restoration threads you know I like to have my shit not just play nice but also look nice. Pristine. Glorious. I've been musing over what needs to be done to bring it up to snuff with the rest of my arcade armada.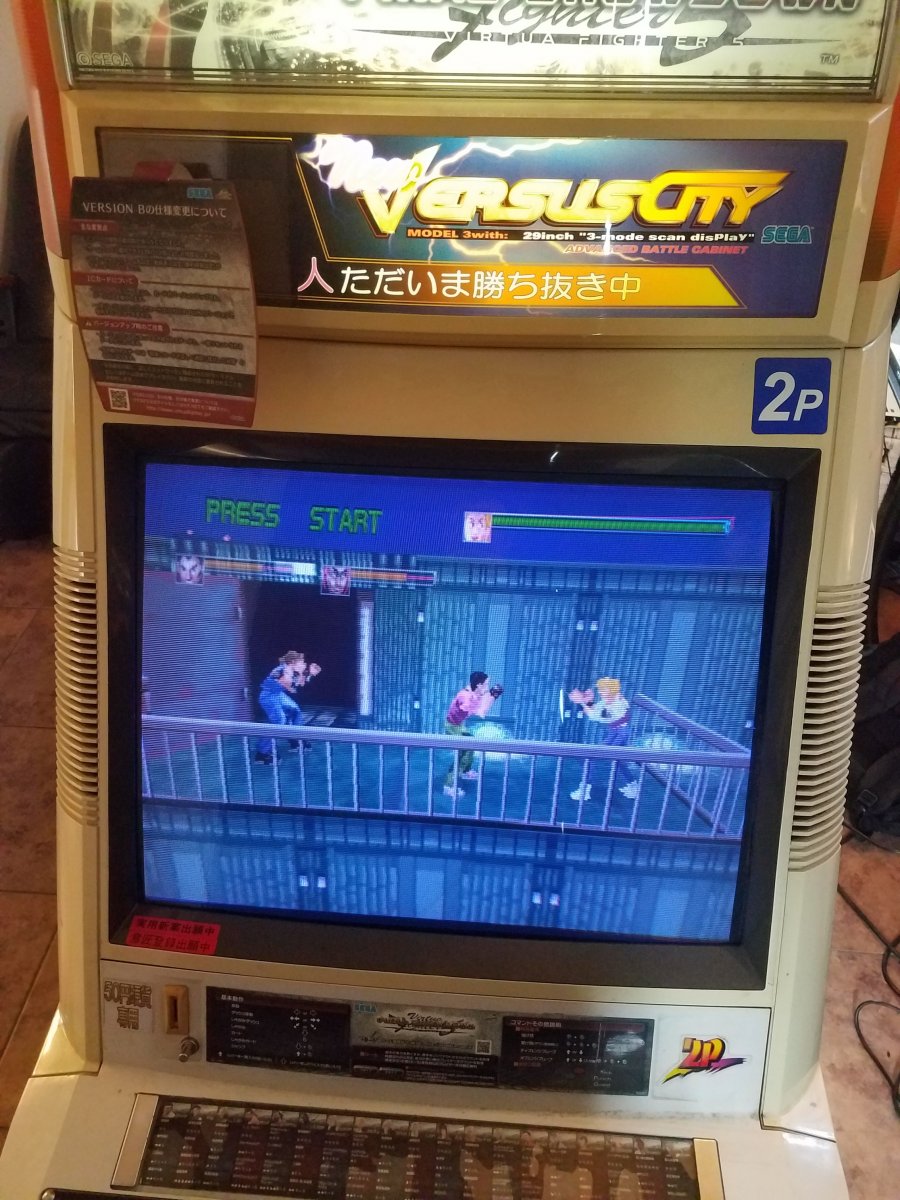 As you can see, it works. When I plugged it in, I didn't realize all the power switches were set to on. Boy did I jump! This shit makes a loud pop when starting up! I thought the cabinet jumped because that's what it sounded like. The fans are super loud! 2P side screen was pink and colors were all off. I recognized right away it needed a degauss. 1P side has a red tinge to it. Pressing demag on the power supply fixed 2P side but 1P remains kinda red. Maybe a calibration is in order. I will pull the screens eventually and recap them as I do all my monitors. What's interesting is a lot of the wiki's out there label this cabinet as having a 15/24 khz monitor, but it says right on the side it's a tri ? Doesn't it auto switch? I haven't looking at what monitor is inside this beast yet because that's a teardown but if anyone knows for sure lemme know. There is only one monitor remote adjust board I've found. Is there supposed to be two?
The 2P left side speaker seems dim, rest seem fine. Need to check on it.
Seriously very roomy inside. The cabinet came with no locks because of course not. The power supply looks like a beast! I am very scared every time I flick the power button on as it is very loud. All the lights/billboard/7 segment/screens/sound all come on at once so it is pretty heavy duty to start all that. All lights and 7 segment do work. The wires were intimidating at first but after messing with the cabling I figured out how to change them out. I wish they were labeled. If anyone knows for sure the connectors and what they do lemme know, I wanna use my label maker to mark them. As for the key, this cabinet came with a box pictured above that had a bunch of extra harnesses, bulbs, stickers, and manuals! In the manual I was able to verify this cabinet uses the 5575 key. There is one for the bigass swing door, 2 underneath the control panel, then 1 for the coin box.
There are 3 wire harnesses included. Two seem to be for the lindbergh molex style connectors? Then one for the Naomi which is what I currently have in there now after briefly testing with my STV mobo. I was considering retrobrighting the cabinet with a lot of chemicals in a makeshift pool in my backyard, but after taking my Naomi out of my closet which was previously stored after being retrobrighted, I can confirm that the whiteness doesn't last and it is starting to yellow again

I cannot find repro stickers for the sides so I am at a loss what to do. I am wondering if a body shop can paint the plastic while not touching the stickers? There are no cracks in the body, but there is one gouge that I am going to have to bondo at some point. Which means some kind of paint job will be needed anyways on the yellow plastic. The grey is also dirty/yellowed. Not even sure what color to go for. Appliance white and "Grey" ? If you look at the middle connector between the two cabinets, you can see that it's clean grey so I imagine that's the color it's supposed to be. The orange lights are also hazy, kind of like an old cars headlights.
So here's on the docket so far, recommendations welcome.
Get rid of yellow/paint cab/bondo gouge
Recap monitors/find out why the 1P side is red tinted
Check 2P left side speaker and why it seems dim
Do monitors auto adjust or do I do that manually? Manual shows some dip switches?
Cabinet/PSU fans are LOUD! replace?
Get locks. Would prefer to not have to source official 5575 keysets, any suggestions?
Label the wire socket wall. What are the blue unused sockets for? Where do kick harness go when I get new panels?
Get alberto to make me some dope panels. 3 buttons aint cutting it.
1P side marquee light not working?
Are those two long grey cords inside the cabinet for the card reader or are they for the 7segment/orange lights?
Last edited: