I've always loved these cab maintenance and restoration logs, so I figured it was my turn to contribute a bit!
I've already done quite a bit of work on the cabinet and will be sort of 'backfilling' this thread with progress shots until it catches up to the present; here are a couple (potato) photos of the current state of things as of December 2020:
Work that's already been done and will be documented in this thread:
Full disassembly and cleaning
Monitor recap
Monitor repair (reflowing some joints and fixing vertical collapse)
PSU recap
JVS prep (JVS/JAMMA IO, stereo amp)
Earth grounding (3-prong power cable)
Wheel replacement
Mod: headphone jack (to fill a preexisting hole in the control panel)
Mod: internal power strip
Mod: internal service lighting
---
Background
I bought this cabinet about five years ago from a collector in SoCal who doesn't usually sell; it was not in the best cosmetic shape, but the monitor was good and it was at a great price (approx $550 USD). After owning it for a couple years, the monitor started to develop an issue where it would randomly lose sync. This would happen at inconsistent times and last for varying lengths of time, so it made playing on the cabinet basically impossible. Some experimentation and percussive 'diagnostic tests' suggested a cold solder joint was likely the issue, but at the time I didn't have the knowledge or tools to handle it myself...
...and so it just stayed in storage, unused, for about three years. Every once in a while I would power it on for a couple credits, but it would always have the sync issue come up again sooner or later. I had a lot of stuff going on in my life over this period (graduating from college, moving to a full-time job, moving to a new apartment, etc.), so it was a relatively low priority - but it always bugged me that I couldn't play on it.
About three months ago, I got fed up with that situation and decided to just jump in and try to figure things out! After doing some research, I found that there were a few people nearby who would be able to service the monitor for me. All I would need to do is remove the chassis board.
Except that after thinking about it a bit more, I realized -
Hey, I can solder and do electronics work now. If I'm gonna go through the effort of pulling the chassis out, I may as well try to fix it myself.
And that led to:
If I'm gonna go through the trouble of pulling the monitor and taking out the chassis, why not pull the whole cab apart and go for a proper deep-clean and restoration job?
So, this is where our story begins...
---
September 28, 2020
This is the day when I finally said "screw it, I'm gonna do this". So logically the first step was to tear the whole machine apart. I unfortunately don't have a 'before' photo of the entire cabinet. Suffice to say I gave it a good exterior cleaning when I first acquired it, and routinely wiped up dirt and grime in the easy-to-reach parts of the interior, but to my knowledge the machine had never seen a proper cleaning before I started this job.
I'm sure you're all pretty familiar with the teardown process of a New Astro City by now, so I'll spare most of the details.
Control panel area was mostly clean when I started, but you can see a lot of dirt and nastiness deeper in the cab. In the lower-right corner you can see a hole that the previous owner drilled into the control panel - it used to house a button to manually add credits (since apparently opening the coin door to trigger the switch manually or using the service button was just
too difficult

). I'll be addressing this hole a bit later in the log.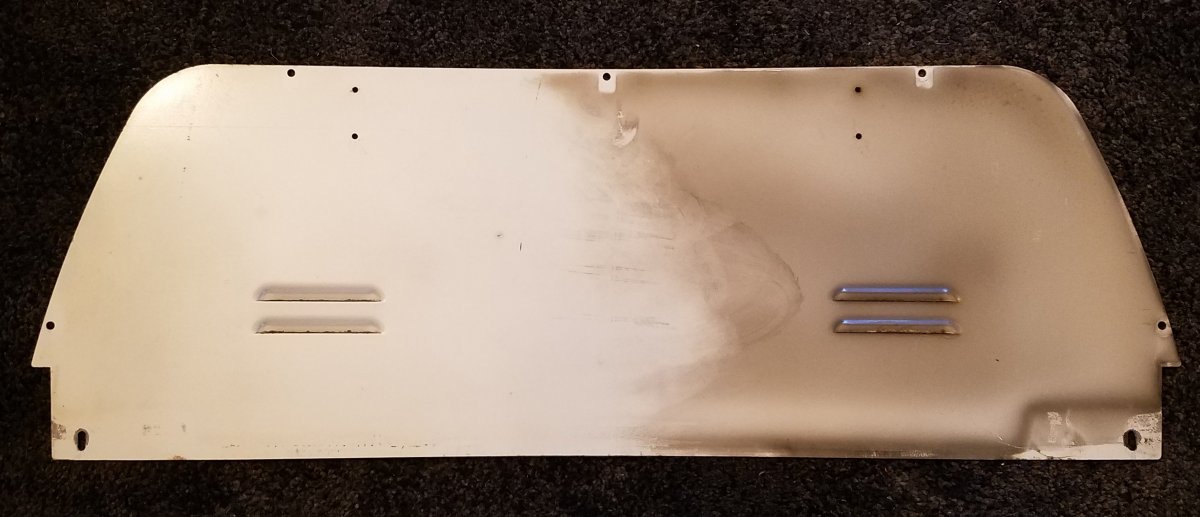 This was the first piece where I came to realize just
how much
dirt was built up on some of the parts. On the left is a couple minutes of effort with water and isopropyl alcohol for particularly stubborn spots; the right is how it was when I first removed it from the cabinet. Gross.
I started off by cleaning the monitor bezel and the front upper shell. It cleaned up pretty nicely with little effort, except for the areas around the speakers - more on that in a moment.
I pulled both speakers and used a flashlight to check for damage to the drivers. Gave them a little shake to try to dislodge dust. There's still some dirt left, but I don't want to use more invasive cleaning methods on the speakers yet - both of mine still work fine for now. I considered using a vacuum or compressed air, but I didn't want to risk damaging the drivers with an air pressure change like that.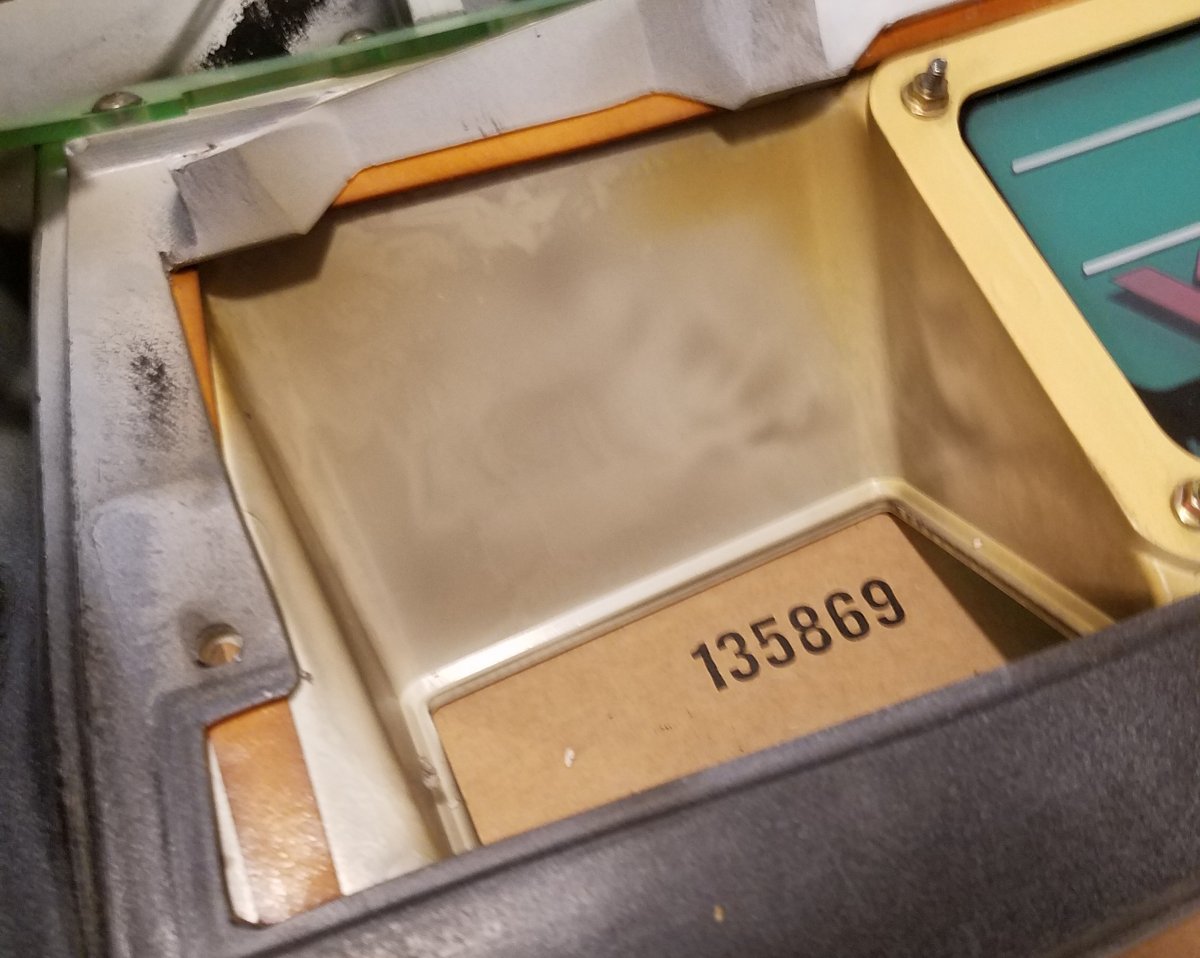 I don't know if this is a common problem with New Astros, or if I'm just particularly lucky, but my cab had a lot of caked-on grime inside the speaker shrouds. Before cleaning on the left, after on the right - much better!
I also pulled the monitor solo for the first time. The first few seconds of that process were really scary, but once the weight of the front-glass was tucked in to my body it really wasn't bad at all!
More updates coming soon...
Last edited: