Cleaning out my spare parts bin. Everything here is up for free + the cost of shipping in US/Canada (I'm in US).
Sanwa OBSF-30 (I think) buttons: 5 black, 3 white, 1 red, 1 yellow, 1 blue, & 1 green
Button caps: 2 30mm black
Sanwa LB35 (I think) ball tops: 2 blue, 1 white, & 1 green
Plexi option panel for Vewlix in black with 6 buttons. Forgot where I got this, but 1 side is matte and 1 side is gloss. Great for adding 6 "option" buttons to your Vewlix.
1 barrel lock. Key brand says "MIWA". Fits Astro/Blast cabinet.
"2L12B" pigtail adapter I think it's for an Astro cabinet, but not sure what. Check the pictures.
Ultra SFIV marquee/instruction strip kit for Vewlix - I think this came from SellSellSell (sp?). The instruction strip and marquee are printed on transparent material so they light up. I think I can ship these in a tube.
Take 1, take it all!
Thanks!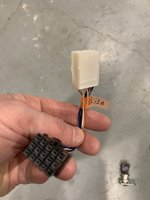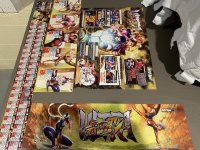 Last edited: