Joined

Dec 6, 2017
Messages
Reaction score

6,697
Location

New-Zealand
For sale a Neo geo Big red cabinet (6 slot). This is the Pacific Version imported from New-Zealand.
http://www.hardmvs.fr/xml/pacific/pacCabs.php
At the moment it's located in Denmark, 1h30 drive from the German border.
I've been in the arcade world for 15+ years and that's the only one I know of in Europe. Even the biggest arcade venue in Europe (
http://www.runekeller.dk/spilmuseet.php
, 3000 games and 800 cabs) doesn't have one.
Asking 1500€ for it .
Everything works:
- Combo is a Kortek chassis with Zenith 25" screen. Chassis has been recapped in 2019, screen has slight burn-in, visible on white screens but not in game (see pictures).
- Both sticks and all buttons. Select button has some cigarette burns on one side.
- Both coin slots, taking NZ$
- Both credit displays
- All 6 slots on the motherboard
- Stereo sound (both sides OK)
- Memory card reader. Home-made harness is a bit short but works fine.
- Both headphone jacks
- All 6 EL panels. 1 & 6 have been replaced, 2/3/4/5 works but are dimm (visible in a dark-ish room).
- Some minor scratches on the sides (see pictures)
- Both PSUs (being a hungry 6 slot it has one dedicated to the 5V rail and one for 12V) have been recapped in 2020
- Two voltmeters (5V & 12V) have been installed inside the cabinet to help monitor/adjust voltages
Overall good condition for a cab celebrating its 30th birthday in 2021!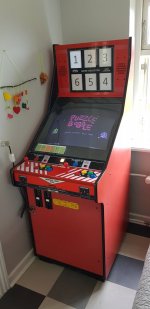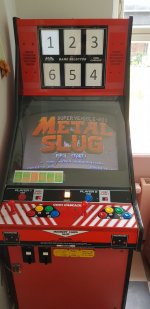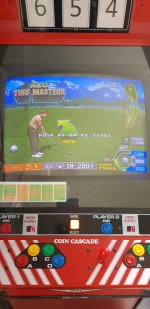 Last edited: