Joined

Jan 20, 2016
Messages
Reaction score

4,288
Location

Logan UT
Great job troubleshooting! First up, all the times I answered you before I was at work without an actual PCB in front of me and I went off of the schematics. Now that I'm at home, I pulled out one of my working System 16B boards and checked things out for myself. It turns out that with the B Board, the schematics are just outright wrong. I'm not sure if they were written for a different B Board revision or what, but they don't match the B Board you and I both have. So I apologize for giving you incorrect advice on the traces to check for continuity before.
As you noted - I also forgot that all of the custom chips are through-hole mounted on this board so ignore my earlier statement about checking for lifted pins on the custom chip(s). However, the three custom chips are installed in sockets, meaning that you can carefully pry them out one edge at a time with a thin screw driver and swap them with the equivalent custom on your working System 16 board. This would be a quick and effective way to test if one or more of your custom chips have failed.
Okay, now that I've said all that, let's step through your latest work.
From your video:
- You are correct that it looks like Chip Enable (Pin 20) is holding high. That line is Active Low, so that's why the output lines aren't triggering.
- You are also correct about it looking like Output Enable (Pin 22) is also holding high. That's another one that's Active Low, so that's another reason the output lines aren't triggering.
Since we know your CE and OE lines need help, let's ignore the schematics and figure them out for ourselves. Here's what I found from probing my board:
- The CE line (Pin 20) on the ROM at location B1 you've been checking shows continuity to Pin 15 on the 74LS138 chip located in the bottom-middle of the B Board.
- The 74LS138 chip is a decoder - it's responsible for activating a particular output line (CE signal) according to an enable signal and a select signal that's fed into it across 6 pins. There's a datasheet with a Truth Table for how the lines are triggered on the 74LS138 here:
https://www.electroschematics.com/wp-content/uploads/2013/07/74LS138-datasheet.pdf
- You should find continuity on the Pin 20 CE lines to the output pins on the decoder as follows:
ROM B1 Pin 20 = Pin 15 74LS138
ROM B2 Pin 20 = Pin 14 74LS138
ROM B3 Pin 20 = Pin 13 74LS138
ROM B4 Pin 20 = Pin 12 74LS138
ROM A1 Pin 20 = Pin 11 74LS138
ROM A2 Pin 20 = Pin 10 74LS138
ROM A3 Pin 20 = Pin 9 74LS138
ROM A4 Pin 20 = Pin 7 74LS138
- The Select signal for the CE outputs on the 74LS138 come into Pins 1, 2 and 3. Continuity on these pins traces to
Pin 1 = CN2 Pin B9
Pin 2 = CN2 Pin A10
Pin 3 = CN2 Pin B10
- The Enable signal for the CE outputs on the 74LS138 comes in on Pins 4, 5 and 6. Continuity on these pins traces to
Pin 4 = Tied GND
Pin 5 = Tied GND
Pin 6 = Tied HIGH
Since the Enable signals are all tied and don't change, the Select signals are the ones you should focus on for your CE troubleshooting.
The three Select signals on the CN2 connector route to three pins on the 315-5196 Custom. I marked them in red on this photo: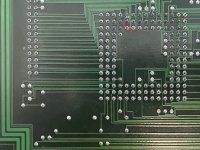 Check those Custom pins for continuity to the CN2 pins. If you're careful, you can also probe the pins while the board is running with your logic probe to see if signals are being generated on those lines. According to the 74LS138 Truth Table, the CE line for ROM B1 (Output 0) will only trigger Low if Pins 1, 2, 3, 4 and 5 are all Low and Pin 6 is High. We know Pins 4, 5, and 6 are tied and won't change, so look for activity on Pins 1, 2 and 3 - they should all show High-Low alternating activity if the 315-5196 Custom is functioning properly.
The B1 ROM OE Line (Pin 22) comes from Pin A9 on CN2, which then goes back to the same 315-5196 that drives the CE lines. I've marked the pin in white on the photo above.
Hopefully this information will be much more helpful for you. I should have just pulled my own board out and checked things over myself a while back instead of relying on the schematics. Sorry about that.
Last edited: