Joined

Jan 19, 2020
Messages
Reaction score

404
Location

United States
Recently picked up a MVS U4 which has a Toei TC-HV25LMK chassis. I haven't worked on one of these chassis before, and frankly can hardly find anything online about it so wanted to start a thread to post what I see and find.
Initial Findings:
Lots of adjustment pots, but in hard spot to reach.
PCC.Adj (A) and PCC.Adj (B) are on a daughter board; currently not effecting anything though for me.
Tons of jumper wires on this thing.
Flyback is a pain to adjust when monitor is mounted in the cab.
Flyback, top pot is focus, and bottom pot is screen/brightness.
CN401/CN402 = Low 15khz / Med 24khz Resolution.
Recap kit available from Arcade Parts & Repairs.
Questions:
H.Coil and PCC adjustments aren't doing anything; wondering if something is needing a swap in the Horizontal circuit?
There is no degauss button connection. I think the degauss for other Toei chassis is J1, but on this chassis it is shorted. Is this chassis auto-degauss?
There is a loose ground jumper off the main board, is that supposed to go somewhere or just a spare?
Chassis Pic (Online pic which shows J1 wired in - white wires on left running off the board):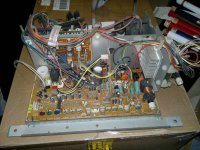 Resolution Jumper Pic:
PCC Adj pots Pic:
Degaussing Jumper (J1) Pic:
Flyback Pics (top focus, bottom screen):
Last edited: