Hello, everyone.
I have an issue with my NNC currently. The image controls for the Toshiba may or may not be functioning correctly.
Quick facts:
Toshiba D29C051
Model PB9930-2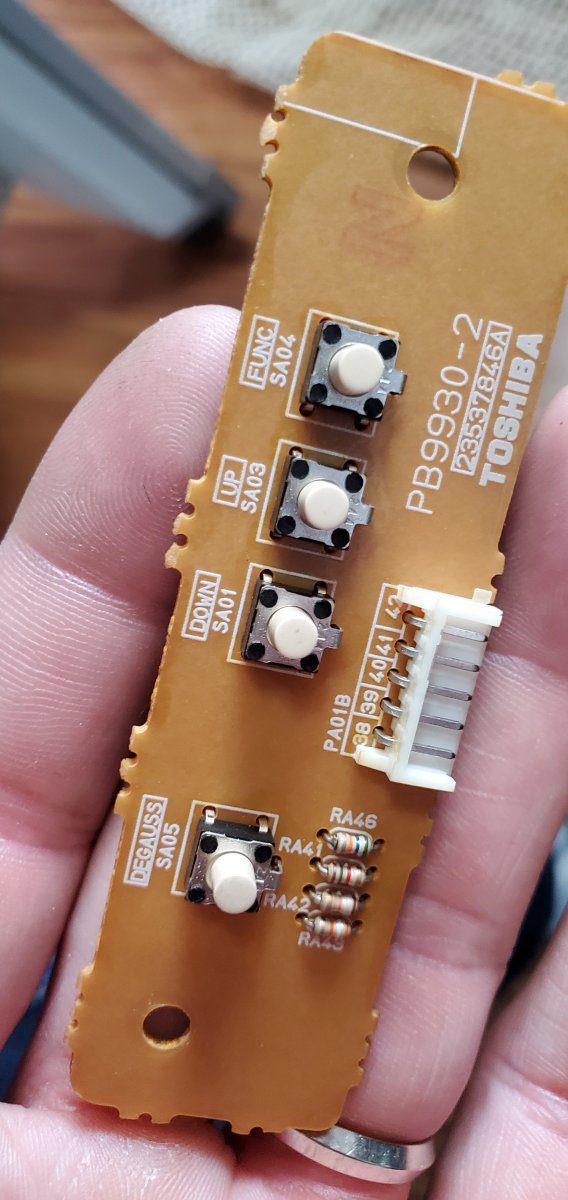 My issue started when I decided to try and center the picture. The 4 buttons behaved in the following:
FUNCTION: brings up the menu and cycles through the menu with another press. Cycling was random as it would select up or down with no real pattern.
UP: Behaved as the select button to enter a sub menu and increase a value by +1
DOWN: No function whatsoever
DEGAUSS: Does just that
Long story short, got my picture stuck all the way to the rightside.
I attempted cleaning the tact switches, which helped the random selection on the function button, it's now only cycling down one per press. Still no response from the down button, though.
I took a meter to pins 40 and 42, which get continuity when the down button is pressed, so I'm assuming no issue with the button at this point.
With this out of the way, I'm suspecting an issue with the board on the tube, but I'm unsure of how to diagnose that.
I've reached out to a member of the forums about an extended remote board for my cab, but until I hear back, I'm stuck trying to figure this out.
Also, seems like I can't even select the RESET option in the menu, UP works on every option but that. Is there a secret way of selecting this? Maybe another method of reseting the picture?
I would really prefer to avoid touching anything on the tube, as I'm still not very experienced with these things. Any advice on the matter would be greatly appreciated.