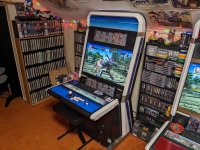 I picked up a Vewlix F about a year ago that had no marquee, side art, coin sticker, etc. I'm not sure why it was all missing. I started looking for a replacement marquee, and that was proving to be impossible. Eventually I found these repro Diamond style ones on Ali Express and decided to try something different. Since everything was missing anyway, why not change the color? I went with the Diamond Blue repro marquee. I also picked up a handful of different panels until finally finding an original 1p Diamond Blue (thanks again
@twistedsymphony
). To top it off, Arcade Art Shop was really helpful in making a custom blue version of the F art set.
Before I could put the art on, I had to take care of the yellowed plastics. I hesitated to do this for almost a year since I really didn't want to peel of my other Vewlix's art. I eventually got fed up about a month ago and finally decided to finish it. I went and got a few quotes from body shops and vinyl wrap places. After I got the quotes I had initially decided I would just paint everything myself. But with the weather still being too cold to paint, I got impatient, and went with Maaco. I ended up having them paint both of my Vewlix F plastics, along with the bezel from my New Net City and bezel/topper from my Super Neo 29.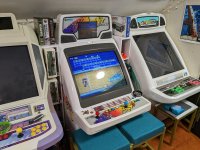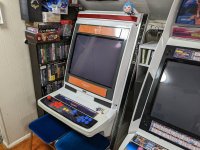 I also replaced the F's monitor with an LG 32GP750-B using a Hadouken Arcade bracket I had picked up a while ago. I found a local shop to cut the front glass for it. I went with low iron 1/4" tempered glass cut to 18 3/8" x 30 1/4". I also printed some of
@socalcade
's glass holders and they worked really well. Since I had both my cabinets apart I also spent a bunch of time messing with different link setups. I ended up setting it up where either cabinet can be the master. I've got two audio, two hdmi, two vga, and two dp cables running between them. I highly recommend not doing this. It's really a waste of cables and money.
I went with JVS I/Os in both cabs since it's pretty universal, mounted on
my custom bracket
of course. I have a Type X2 multi in one cab and a PC in the other. The PC is using a JVS-PAC 2. I had to add ground loop isolators to the sound amps because of the noise from the JVS hardware when using the PC.
Also I've been getting back into Tekken lately so I put a
Korean stick
in the red one.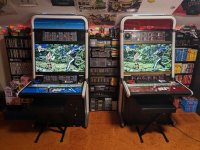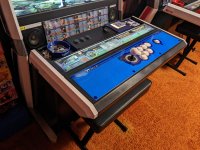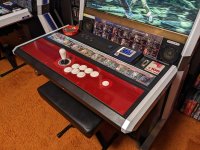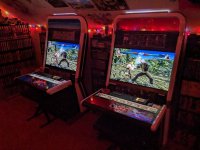 Overall I'm pretty happy with the results though there's a few things I still have left to do, like paint the red one's monitor bezel.