Joined

Dec 21, 2020
Messages
Reaction score

45
Location

Montevideo, Uruguay
Hi again!, having recovered the willpower after doing the recapping and repair of my other Nanao MS8-26SG, I decided to start working on the MS8-26SG from the other Aerocity, or so I thought, because after taking it out, noticed a label that says it's a MS8-26A:
Anyways, I started checking it out and noticed some stuff the previous chassis didn't have, that raises some questions:
Q1. It has a blown F902 1A fuse that seems to be original, but the monitor was working, that's because from the other side it has a thin wire bypassing it, never saw this, is there a logical reason to do it? have you seen it on other chassis? was that made by a technician or from factory? why they didn't took out the blown fuse at least? also, could be that the wire thickness was chosen to burn if current > 1A?
Anyways, I want to remove that wire and install a fuse, the 26SU and 26S schematics (only models I could find on the net) say F902 should be 2A, but the silkscreen on this pcb says 1A, I bought 1A and 2A fuses and plan to remove the wire, put the 1A fuse, and if it blows, put the 2A, sounds good right?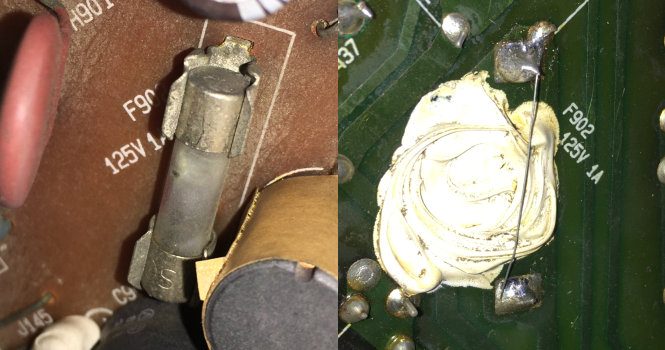 Q2. The chassis has another wire just like the previous one, but at the R570 resistor, the schematic shows a fused resistor, I also never heard of them, but, if it's a fused resistor (and it should be because of its weird shape), why does it need a wire below it? Also, there is other like it but without any wire below... anybody knows something about this? It is right next to the flyback. I guess I should leave it like it is but, I am a bit worried if this means being unprotected to some sort of overcurrent?.
Q3. Next thing is curious, one of the PP capacitors, unlike the others, has like sugar crystals around it, or salt, or acid? I don't want to taste it lol, but it caught my attention, I cleaned it, some crystals were pretty stiff, like if they somehow grew right from the capacitor or something? took it out and measured it and gives the right values, but, have you ever seen this?
Thank you!