Joined

Feb 1, 2019
Messages
Reaction score

453
Location

Northern California
This is not a multi, it is just a Frontend for use on any computer. Just like any MAME frontend like Hyperspin. No games provided here, sorry.
With that out of the way, I am using Attract-Mode as the title says, and with a theme that was completed in 2017 which is no longer in development or supported. It only officially works on Attract-Mode 2.1.0 ish. Unless you are absolutely in love with this theme, you should find a different one. I suggest looking up a nesicaxlive 2 theme. If you do love this theme, then see below.
1. Download Attract-Mode 2.6.1 Front End with NXL HD theme
https://mega.nz/file/t3Q11bgK#ezgdDOIfbu3lkVwSjBhmg5CeDCFBzx-6FDynr9N5odI
2. Extract to folder, I am using D:\SYSTEM\AM directory
While you are at it, create an artwork directory

3. Start attract.exe inside AM directory, choose a language, you should now be on the configuration screen
4. Go to Emulators, add Emulator, name it CAVE

5. Go back to configure menu and choose displays, Select Add display, name it GUI
6. Go back to configure menu and choose controls. In here, change left, right, and select

7. Change the default action for left to previous page and right to next page
8. For Select, Add input and assign it to Q
9. Go down to Previous and Next Filter, assign W to Previous Filter and E to Next Filter

10. Go back to configure menu, go to General
I choose Fullscreen Mode for the Window Mode
No Wrap for Filter Wrap Mode, this controls whether it goes back to your first filter after you get to the end or not.
Add ;.\ to Font Path to point to the fonts used in this theme
11. Exit the configure menu entirely and you should look like this:
12. You can now exit Attract-Mode and go back to your AM directory. Navigate to the emulator folder and edit CAVE.cfg
13. Replace with the following:
# Generated by Attract-Mode v2.6.1
#
executable cmd
args /c "[romfilename]"
rompath D:\GAMES\CAVE\
romext .a3x
system PC
info_source steam
nb_mode_wait 5
exit_hotkey Escape
artwork Flyer ..\Artwork\CAVE\flyer
artwork Logo ..\Artwork\CAVE\Logo
artwork Snaps ..\Artwork\CAVE\videos
artwork Video ..\Artwork\CAVE\videos
artwork Videos ..\Artwork\CAVE\videos
artwork boxart ..\Artwork\CAVE\boxart
artwork flyer ..\Artwork\CAVE\flyer
artwork logo ..\Artwork\CAVE\Logo
artwork marquee ..\Artwork\CAVE\wheel
artwork snap ..\Artwork\CAVE\videos
artwork snaps ..\Artwork\CAVE\videos
artwork title ..\Artwork\CAVE\title
artwork wheel ..\Artwork\CAVE\wheel
14. Navigate to romlists folder and create a list.txt
Paste the following information in:
ddpsdoj;DoDonPachi SaiDaiOuJou;CAVE;;2012;CAVE;Shooter;2;0;3;;;;CAVE;怒首領蜂 最大往生;
15. Go back to the AM folder and edit attract.cfg
Paste the following as shown here:
romlist list
filter CAVE
sort_by Title
rule Emulator equals CAVE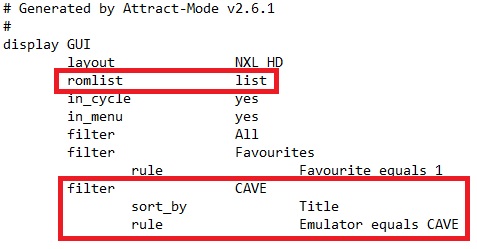 Paste the following at the bottom of attract.cfg:
layout_config NXL HD
param art wheel
param artRotate custom1
param aspect_ratio No
param bg_image assets/backgrounds/Background.png
param flow Vertical
param logo logo
param nbuttons Buttons
param shader Yes
param ttime 140
16. Go into the ARTWORK folder you created previously.
Create a CAVE folder. (matches emulator name you chose)
Create LOGO, VIDEOS, and WHEEL folders (files within here should match the <ROMNAME> in romlist)
Now we take a break.
Last edited: