I recently acquired a non-working Konami Rock 'n Rage board and this will be where I report my progress with trying to bring it back to life.
So the main observable problem with the board is heavy corrosion. And so far, I have been cleaning and restoring the damaged areas the best that I can.
Here are some before and after pictures:
BEFORE
AFTER
BEFORE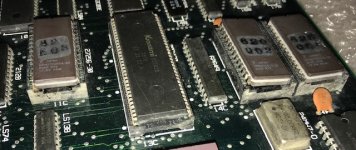 AFTER
After cleaning all of the sockets, I still need to test them for continuity on every pin. Visually, they look good now, but of course they must be tested. I don't want to replace them, to keep everything as original as possible, but if I have to then I will.
Most of the EPROMs and mask roms are corroded, and some may not be salvageable, but for now, I have burned all new EPROMs, but I will need help with the mask roms because they are Konami 1meg mask roms, so the pin out is smaller then eprom standard. I will need to build or buy an adapter for them.
I will post an update here later tonight with some of the questions that I have. In the meantime, here is what the board currently does when powered up.
Just adding in the link to what I will do to replace the 1meg 28pin Konami mask roms with 1meg 32pin EPROMs (until I can come up with a better solution)
https://www.jammarcade.net/rastan-repair-log-3/
Last edited: