Minigun Supergun

-

ADVANCED

edition An Open Source Arcade Supergun

Design goals and considerations:
Open sourced
Minimalist design
Low cost
Easy to assemble
Safe
FEATURES:
2 layer PCB - 110mm x 50mm | minimum 8mil trace width & clearance | 40 vias.
Arcade PSU connection via Molex 6 pin Mini-Fit-Jr connector.
COIN & SERVICE tactile switches.
2 x Neo-Geo style DB15 connectors for player 1 & 2 inputs. Follows Undamned pinout.
Buttons 12345 on Jamma edge - Buttons 456 via kick harness connector. Buttons 4 & 5 may be toggled from the Jamma edge via a dipswitch.
8 Pin MINI DIN video and audio connector. Follows XRGB MINI / RGB MODDED NES / HAS pinout.
3.5mm audio output connector which disables audio output from the MINI DIN when utilised.
Speaker to line level audio conversion - DC blocked - No Jamma audio pin is ever grounded.
MONO or STEREO audio output. Selectable via a jumper.
THS7374 based video circuit for RGB and SYNC signals. Buffered, attenuated and 75 Ohm impedance matched. Adjustable trimmer pots used to attenuate RGB levels. LPF may be enabled / disabled via a switch. Fixed resistor voltage divider used to attenuate SYNC.
Power LED.
Voltmeter to monitor +5V.
OSSC safe.
The ZIP file(s) below contains the Gerber files for PCB fabrication, the Easy EDA source file for editing, the BOM and schematics:
MINIGUN VERSION 2.5 (FINAL) MINI DIN 8:
View attachment MINIGUN_REV2.5.zip
MINIGUN VERSION 2.5 (FINAL) UPDATED TO A SEGA MEGA DRIVE 2 / GENESIS 2 MINI DIN 9:
View attachment MINIGUN_MDIN9.zip
ACCESSORIES:
SYNC BOOST PCB:
Input RGBS via Mini DIN 8.
Output RGB-S via a male VGA connector.
Outputs TTL level sync.
Designed to be used in the AV3 VGA port of the OSSC to allow Taito F3 and other boards with out of spec sync rates to work. Set H-PLL Pre-Coast & H-PLL Post-Coast to 4, under Sync opt.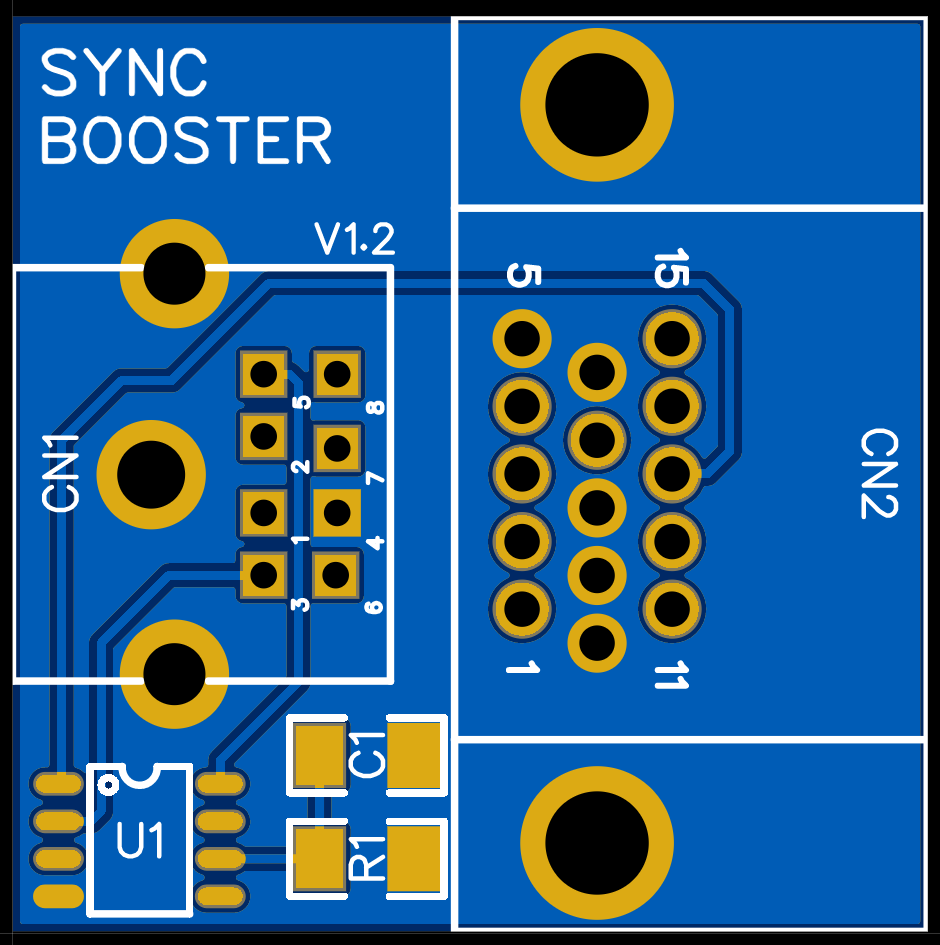 SYNC BOOST PCB REVISION 1.2:
View attachment SYNC_BOOST_REV1.2.zip
4 PLAYER ADAPTER:
FINE PRINT:
I encourage people to share any improvements they may make in the spirit of the open source philosophy and to further improve the product.
You are free to build, use, sell, distribute as you like. Credit and a link back to here would be appreciated.
I offer NO WARRANTY of any kind and assume NO RESPONSIBILITY for any potential damage caused by this device.
This entailed a lot of work. Monetary donations, while completely unnecessary and not expected, will graciously be accepted and used to further improve and refine the product, and maybe to treat myself to something nice.
PayPal: frank.fjs22 AT gmail.com (replace AT with @).
Last edited: