Hello everyone,
I'm currently working on a universal JAMMA adapter board which I can use to build rapid prototypes instead of designing multiple adapters for my needs. I started doing that and it got really time consuming...
So here is my current progress:
JAMMA adapter mainboard
The extension boards are designed to fit on top of the "mainboard":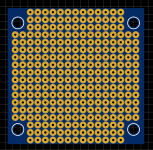 Small extension board
Big extension board
The holes that connect bottom and top need to have exactly this spacing. I have an audio amp that fits exactly.
All my work is based on a design of
@Frank_fjs
(
Jamma Fingerboards
) and my gerber files will be free to use when I'm finished.
Feedback is highly welcome

PS: please be gentle. Its my second time that I used a PCB software...
Last edited: