This is a community collaboration to create a cost effective, easy to produce and assemble jamma extension cable with the best performance possible; especially in regards to the power, video and audio lines.
The concept is two separate PCB's, one with a jamma edge connector to attach to one's arcade board, the other with a jamma finger to attach to one's supergun / jamma harness.
The two PCB's are interconnected via two separate cables. A 24 pin ATX cable which contains all the wiring for power, video and audio, and a 34 way IDC cable for inputs, switches and everything else.
The cables are able to be purchased pre-assembled saving on assembly time. The PCB's can be ordered from the PCB fabrication house of your choice. Soldering is minimal with only 5 connectors to be soldered.
Parts list:
1 X PCB (JX_FINGER.ZIP)
1 X PCB (JX_EDGE.ZIP)
1 X EDGE CONNECTOR 56P 3.96MM PITCH
2 X IDC HEADERS 34P ANGLED PCB MOUNT
2 X ATX HEADERS 24P ANGLED PCB MOUNT
1 X IDC CABLE 34 PIN PLUGS REVERSED
1 X ATX CABLE 24 PIN MALE TO MALE PLUGS REVERSED
Supplier for the ATX cable:
https://s.click.aliexpress.com/e/pcWk425
https://s.click.aliexpress.com/e/crx4IMfR
PCB details:
Dimensions: 125mm X 38mm
2 layer PCB
These aren't something I plan on producing and assembling myself. The idea is to provide the resources for people to fabricate their own. That said, some people will undertake the task of selling pre-assembled units ready to use, such as
@Mitsurugi-w
and
@oneleaf86
.
Current version 1.6 - 28th Jan 2019
Tidied up the ground plane, increased thermal relief width.
Trace optimisation.
Added x 4 holes (as opposed to x 2) for more secure PCB feet mounting.
Jamma finger edge sized to 114.3mm.
Edited IDC footprint to suit an angled connector and repositioned so that the IDC connector sits flush with the edge of the PCB.
Reworked ATX and IDC footprints. Larger holes for ATX and IDC connectors.
Added revision number to PCBs.
Adjusted jamma edge to accommodate all types of edge connectors.
Copper surround around mount holes.
Mount holes positioned 4mm from each edge.
No vias.
Copper pour for +5V, increased power, audio, video trace width.
Increased ATX pad size.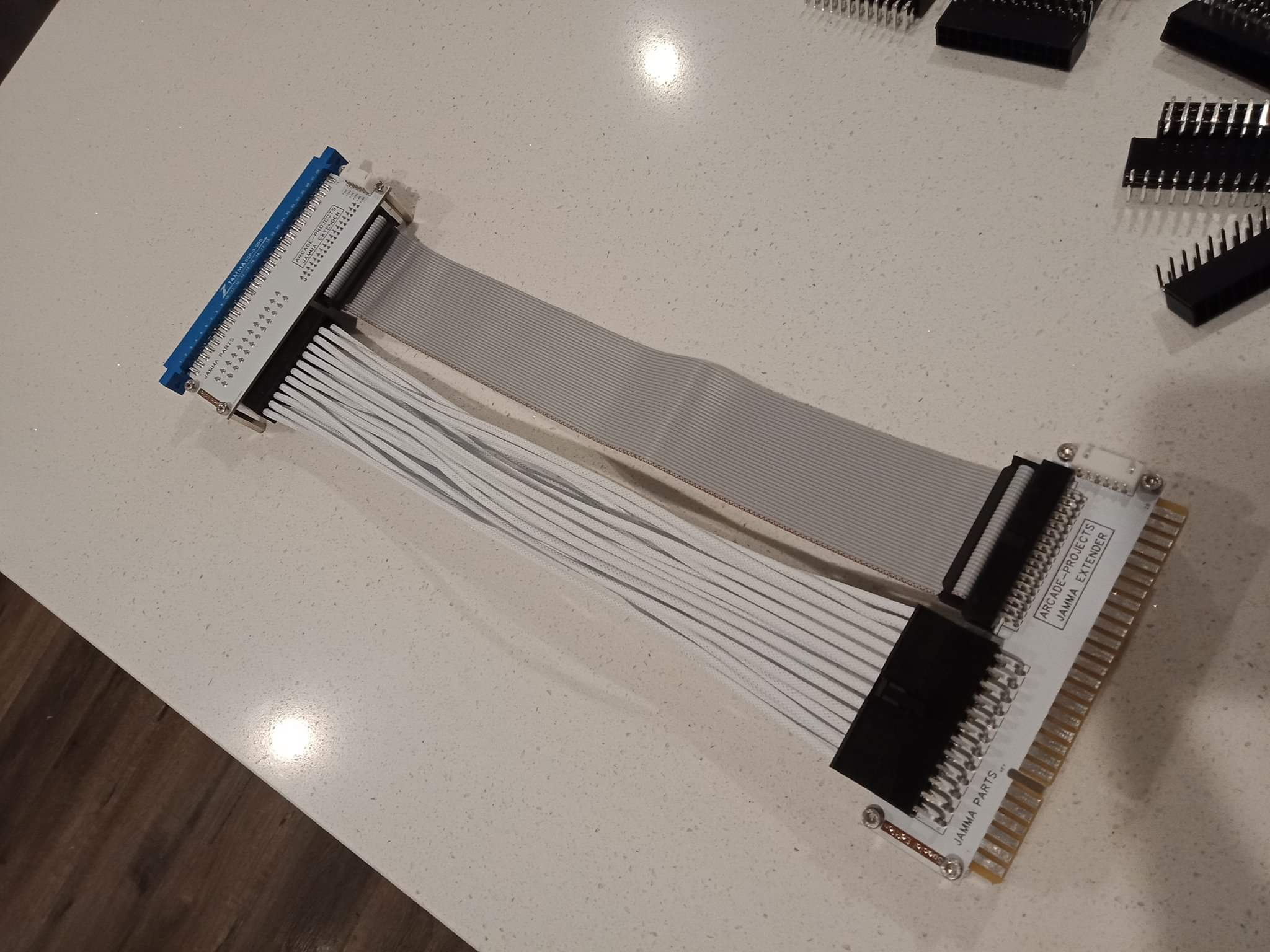 Last edited: