I always wanted a Monkey Ball Panel but they are quite expensive and hard to find.
A while ago I stumbled uppon these on YAJ:
the joystick itself is the same Sanwa base as the Monkey Ball stick. Only difference is a shorter and thicker shaft.
A friend was kind enought to lend me his Monkey Ball panel to do some measuring and checking.
So next up was designing a Banana in Fusion 360 for 3D printing
Split it into two halves and started printing
It took a couple of iterations to get to the end result (rightmost is the original banana)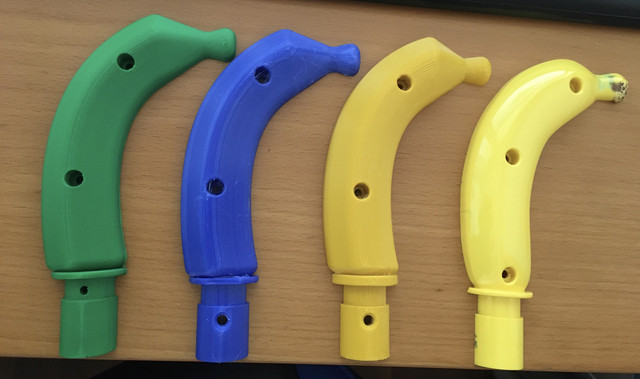 Looks nice on his panel but I could not keep it.
So I went back to Fusion to create a template for laser cutting
Whilst I was waiting for the panel, I did some work on the stick. Painted the banana, adapted the mounting plate and made a custom harness to connect the stick to my NUC with the same pinout as the original stick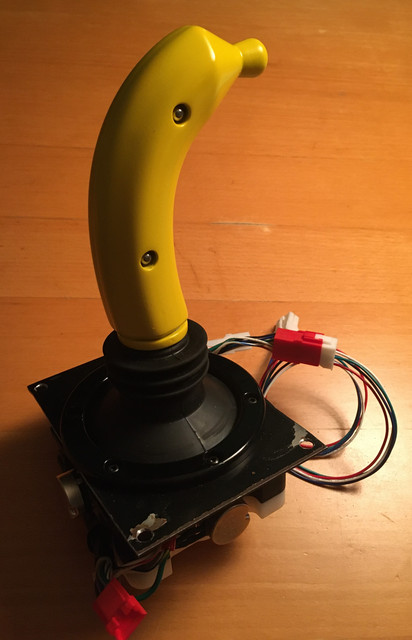 Once the panel came in, I put everything together and hooked it up. The whole setup works great and I am super happy with it. The only thing missing is the CPO which I still have to finish.
On a side note. The original panel has a pot amp on it. Several sources on the net claimed that it is not required. I can confirm this. As the game itself has a calibration screen, the stick works just fine after calibration.
I did reverse engineer the little PCB and had a couple produced with osh park but I never got around to actually assemble one and test it out.
Thingiverse Link for the Bananas
Original Monkey Ball Stick:
https://www.thingiverse.com/thing:4590355
Gundam Monkey Ball Stick:
https://www.thingiverse.com/thing:4590353
next up, Afterburner Climax

Last edited: