On my increasingly long list of unfinished projects, this is something I've been tinkering with for a while. An alternative to the RS, Namco and Konami boards you need to play Jamma PCB's in a JVS cab.
JVS2JAMMA is perfectly clear in my head, but I've seen someone use it to refer to an IO board so I guess it's a little confusing.
About to have proto PCB's made for this: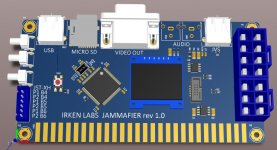 Btw, image does not show the jamma edge connector that is to be soldered on - it is for connecting to jamma PCB's..
Is "Jammafier" a good name, or is there something better that describes what it does intuitively?