This thread will no longer be updated. I've consolidated all of my add-on boards into a single thread at:
https://www.arcade-projects.com/threads/new-stereo-kick-harness-add-on-boards-everten.16347/
All are available for purchase at
https://www.tindie.com/stores/everten
ST-V IO Board (stereo audio + CPS1 and CPS2 kick harness connectors)
EVERTEN ST-V Boards add stereo RCA connectors and CPS1 & CPS2 kick harness connectors to the Sega ST-V. See photos for details.
IMPORTANT!
There are 2 STV layouts that I'm aware of. You must tell me if you have the A or B layout pictured below so I can ship the correct IO board.
Mounts without hardware using sockets on the CN25 and CN21 headers.
Photos available here:
https://flic.kr/s/aHsmNC4Leu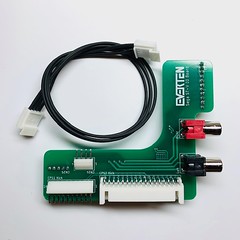 ST-V Stereo Audio (stereo audio only)
Mounts under the PCB using 2 existing screw holes, requires the ST-V to have PCB feet installed.
Photos available here:
https://flic.kr/s/aHsmNBYaau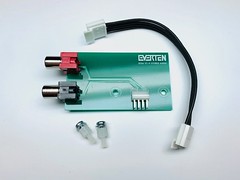 Original Post
I wanted to learn how to design a PCB so I took this on as a really simple project to get my feet wet. I wanted a more elegant/permanent solution for stereo audio via RCA on the ST-V without worrying about a spare adapter cable. I know this is not really necessary and probably pointless to most of you, but I thought I'd share.

It uses the screw holes on the heat sink to mount under the main board, so it requires your ST-V to have PCB feet.
Last edited: