Hey all! Since I had to go through so many dang sites to find all the misc out of stock components and order specific increments of boards to be made, I figured I would order enough to make some extras incase there was interest. Made a ton of these for myself and other FGC friends before and usually just did them at-cost to help them bring retro games to their fighting game events, but knowing it can be hard to find these "in stock" nowadays, it might be appreciated to have some pop up. Anyways, what you get:
Each MG is tested and rgb pots dialed-in; no specific values, just to where it looks correct on CPS2 color bar screens. I'll personally test the exact kit I'm sending to you and send you a quick demonstration video of it working- I've done this with nearly every order so far, and maybe it's a little "much", but I think it's nice to know EXACTLY what your getting, plus you can ask for specific things to be tested if you have a specific use-case (provided I have the hardware to showcase what your asking for). Mostly just for the peace of mind on both our parts that everything's working and good to go when it hits the post.

For extra tech support, there's always
The Main Minigun Thread
.
I currently have 0 Kit(s) left! Check back later mayhaps? (6/15/22)
1x Assembled and Tested Minigun (Megadrive 9-Pin Din ver.)
1x Assembled Pacifier case
1x Sleeved PSU harness
1x Sleeved Minigun -> CPS2 kick harness
Pics: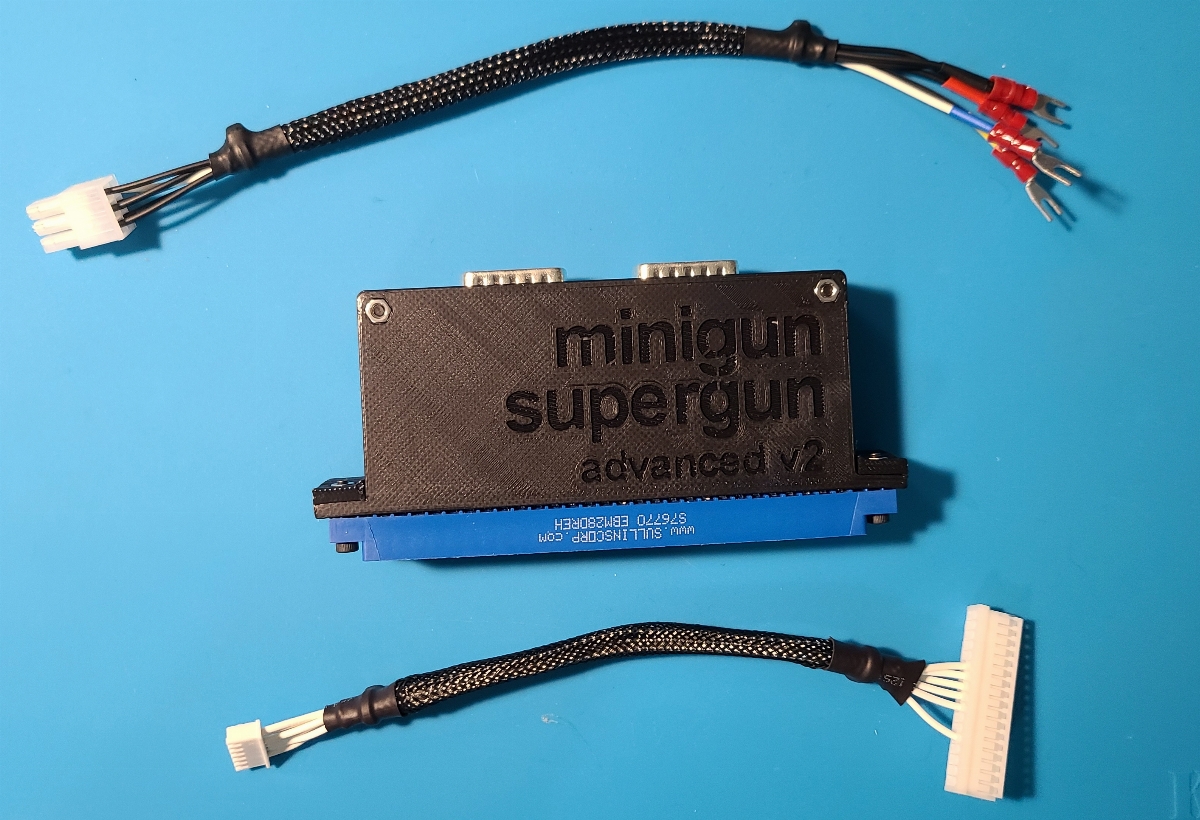 Here's the last video I sent to the fighting game friend before I shipped his specific kit, just so you can see what I'll send you:
Asking $160 shipped within the US.
If outside of the US, DM me and maybe we can work out shipping costs! Happy with this number (aside from the assembly time) for the extra shipping needed to order from multiple sites where I had to source certain out of stock components, as well as being able to send a little donation to frank and co. for the original design work once they're all out the door.

Also, I had a local shop do the 3D case prints as a kinda last minute thing I thought would be cool to include (since that's definitely not my wheelhouse lol), so I decided to just kinda eat the cost on those since I just thought it would be a nice addition. Edit: If I ever do another order of these, I'll likely go through the same small biz for another run of cases since I'd love to support them and I think it makes for a much better/cleaner kit, though price changes may reflect that when/if I place another order for cases!
NOTE!:
As much as I appreciate all of the nice paypal messages, please don't write/mention the word(s) "Minigun", "Supergun", etc. Paypal flags them since they think I'm sending you firearms

So far we've resolved everything quickly the few times it's happened, but worst case scenario they hold the payment for 72 hours.
Thanks for looking!
Last edited: