Mini project: InfiniKey-CPS2. Use original game code without risk of battery failure or damage. Injects appropriate decryption key when the game is powered up. Works on all board revisions. Installation requires only a few simple solder points.
93646B-6/7 install: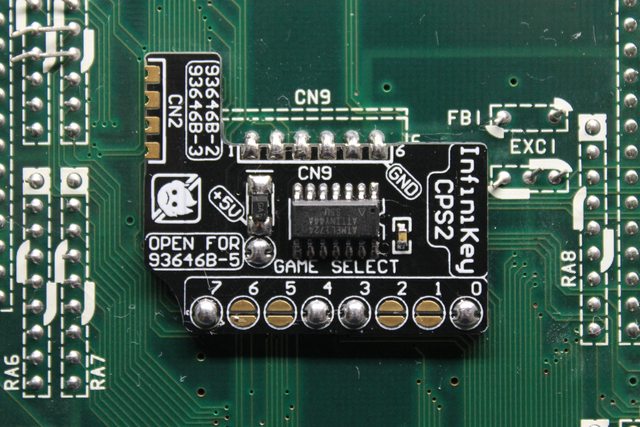 93646B-3/4 install (ignore the typo on the silkscreen, lol):
93646B-5 install:
And of course, massive thanks to Eduardo Cruz ("Arcade Hacker") for his rigorous CPS2 encryption research and releasing publicly the decryption keys, finally allowing arcade collectors to revive their hardware the same way that Capcom's own coin-op division once did!
Installation video:
"Game Select" Jumper Table:
https://drive.google.com/file/d/1uiESuCS-XKL-bjP3G2A3VgUJzHHg4DV-/view
- EDIT -
Production shots:
ORDERING:
You can buy InfiniKey CPS2 from the following shops: *EXPECTED STOCK UPDATE 03/2019*
(US) Paradise Arcade Shop:
https://paradisearcadeshop.com/en/home/electrical/2486_undamned-infinikey-cps2-by-ud-game-tech
(IE) VideoGamePerfection:
https://www.videogameperfection.com/products/cps-infinikey-board
(AU) Sneek:
https://sneeknet.io/index.php/product/ud-infinikey-cps2
(JP) KVClab:
http://kvclab.com/shopdetail/000000000302
I will continue to sell quantities of 10+ directly (just send me a PM or e-mail), but now you have some shops that can sell small quantities or might be a little closer to you

-ud
Last edited: