Pre-order here -> https://homearcadesystem.wordpress.com/pre-order/
FAQ -> https://homearcadesystem.wordpress.com/faq/
Please PM me only in case of technical questions or problems with your HAS. I won't accept orders via PM. Google forms on my website is the only way to buy anything from me.

You won't receive any confirmation after submitting the pre-order. If the google forms doesn't crash, then it means your pre-order will definitely be in. Please be patient, I'll get back to everyone when the devices are ready for shipping.
Home Arcade System
Home Arcade System, HAS for short, is my supergun project. The idea was to have a relatively small PCB-type supergun but packed with some useful features (button layout remapping, autofire, and hassle-free arcade power supply connection).
Features:
JAMMA, JAMMA+ and CHAMMA compatible
DB15 controller ports (NeoGeo compatible, extended to support buttons 5 and 6)
Programmable button layout
Programmable rapid-fire (VSync synchronized, 6 different fire rates)
Buttons 1-6 on the JAMMA connector (buttons 4-6 can be disabled)
Buttons 4-6 on the "kick harness" connector
Internal memory to store the button layout and rapid-fire settings
RGB+CSync video output (75 Ohm impedance)
Selectable video Low Pass Filter
Video brightness regulation via one knob
CSync buffer
CSync regeneration (fixes video issues in the Taito F3 connected via the XRGB Mini)
Selectable CSync level and impedance (~0.35Vp-p, 75 Ohm impedance or ~5Vp-p, high impedance, TTL)
HSync and VSync outputs (~5Vp-p, high impedance, TTL)
8pin mini DIN connector for audio and video output (XRGB Mini pinout)
3.5mm jack connector for audio output (it will override the 8pin mini DIN audio output)
Audio attenuation
JAMMA (mono audio) or MVS (stereo audio) compatible
Test and Service buttons
Voltmeter
6pin power connector
Acrylic glass case
Modular build (the basic functionality can be expanded by using special modules)
Items:
HASV4 supergun - [temporarily unavailable] (the set includes a HAS unit; a set of accessories - 2x laser cut 4mm acrylic covers (for top and bottom), a set of screws, and spacers (the "case" comes unassembled); a power supply cable - high quality 45cm long 18AWG cables; 6pin connector on one end, M3.5 fork terminals on the other end that is suitable for arcade power supplies).
Sega Saturn to JAMMA joypad converter - [temporarily unavailable]

lagless
6 functional buttons + start and coin buttons
A built-in coin mechanism emulator.
Compatible with official Sega Saturn joypads and arcade sticks (HSS-0104, HSS-0136, HSS-0130). 3rd party controllers/adapters work with limited luck. Analog controllers (including the Sega one; HSS-0137) are not compatible.
CPS2 kick harness, 25cm long (colours may vary) - [temporarily unavailable]
CPS1 kick harness, 45cm long (colours may vary) - [temporarily unavailable]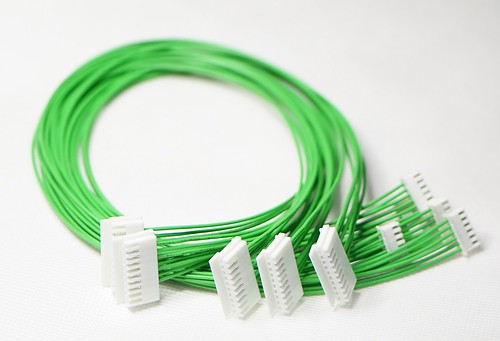 3P4P adapter PCB - allows to connect Player 3 and Player 4. - [temporarily unavailable]
CPS2 Player 3 and Player 4 harness for the 3P4P adapter (colours may vary) - [temporarily unavailable]
Konami Player 3 and Player 4 harness for the 3P4P adapter (compatible with X-Men, TNMNT I & II, Sunset Riders, Simpsons, Bucky O'Hare, Dark Adventure, Metamorphic Force, G.I. Joe) (colours may vary) - [temporarily unavailable]
QSound (CPS1.5 Dash) Player 3 and Player 4 harness for the 3P4P adapter (compatible with Warriors of Fate, Cadillacs and Dinosaurs, Saturday Night Slam Masters, Muscle Bomber Duo: Heat Up Warriors) (colours may vary) - [temporarily unavailable]
System 11 Player 3 and Player 4 harness for the 3P4P adapter (colours may vary) - [temporarily unavailable]
HD15 adapter PCB. With this adapter you can connect the HAS with the OSSC using a standard VGA cable (it helps with the Taito F3, which won't work with the OSSC when connected via the Scart). You can also use a VGA->BNC cable to connect it directly to PVM/BVM monitors. The adapter comes with a set of spacers - [temporarily unavailable]
8pin mini DIN to HD15 adapter PCB. With this adapter you can connect the HAS with the OSSC using a standard VGA cable (it helps with the Taito F3, which won't work with the OSSC when connected via the Scart). You can also use a VGA->BNC cable to connect it directly to PVM/BVM monitors. This adapter requires an 8pin mini DIN to 8pin mini DIN cable (pins must connect straight through end to end - [temporarily unavailable]
RGB to Composite Video/S-Video adapter. Based on the popular Sony CXA2075 IC - [temporarily unavailable]
More pictures: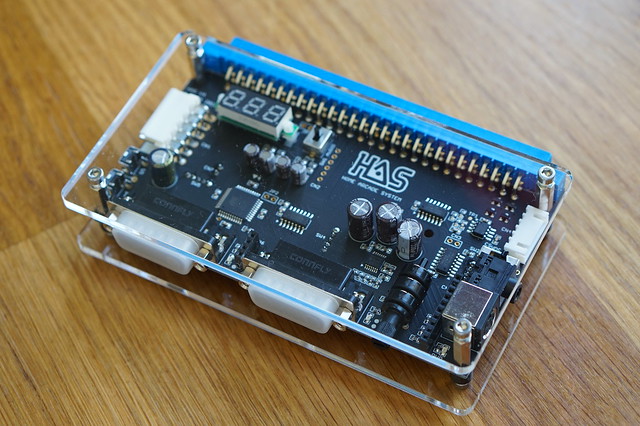 Last edited: