I make add-on boards to easily add stereo RCA, kick harness, and other connections to your arcade boards.
All are available for purchase at
https://www.shewfly.com
Visit the product pages on
Shewfly Arcade
and click on the datasheets for for compatibility, installation instructions, etc. Please read the datasheet prior to ordering and reach out to me if you have any questions.
If something is out of stock you can sign up for stock notifications. I will also update this thread when stock is added.
Sega ST-V IO Board (Stereo RCA + CPS1 + CPS2 Kick)
Buy on Shewfly
Taito F3 IO Board (Stereo RCA + CPS2 Kick) (optional: Lions3 case part, spinner switch)
Buy on Shewfly
Taito G-NET / Capcom ZN-1 / Capcom ZN-2 (Stereo RCA)
Buy on Shewfly
Namco System 1 (Stereo RCA)
Buy on Shewfly
Seibu SPI (Stereo RCA)
Buy on Shewfly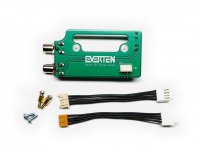 Last edited: