To celebrate the 4th of July I'm releasing a new version of the Chihiro
TYPE 3
Firmware that allows to boot your Chihiro with any CF or SSD.
This removes the 5 minute and 60 minutes reset that happens when you use a non original CF.
Post your experience here.
Notice that like with Naomi some CF don't work. That's related to their speed or revision and they won't work right from the beggining.
Have fun!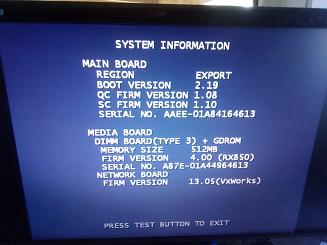 Picture from
@obcd
Get it from here:
http://www.mediafire.com/download/5clui8bzhnqx840/FACTORYCHECKXB.512_hacked.BIN.7z
UPDATE 26/03/2020: SPECIAL VERSION 3 which removes all checks: http://www.mediafire.com/file/ukqwf1kd5wjdusy/FACTORYCHECKXB.512_hacked_v3.BIN.7z/file
ONLY USE IF YOU KNOW WHAT YOU ARE DOING. It won't work with any existing tool and you need to adjust the CRC manually.