I think you said to swap that MTC9000 flyback with a HR702, why is that?
HR7025
Because the original flybacks are junk. I've had two explode like this: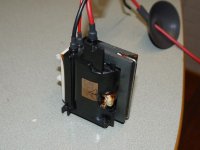 I just measured the TTD tube in my Turbo Outrun and I got 1.86mh for horizontal, and 29.2mH for vertical. So your horizontal is definitely different, but I'm not saying it won't work. I can check some other tubes that I have working tomorrow.